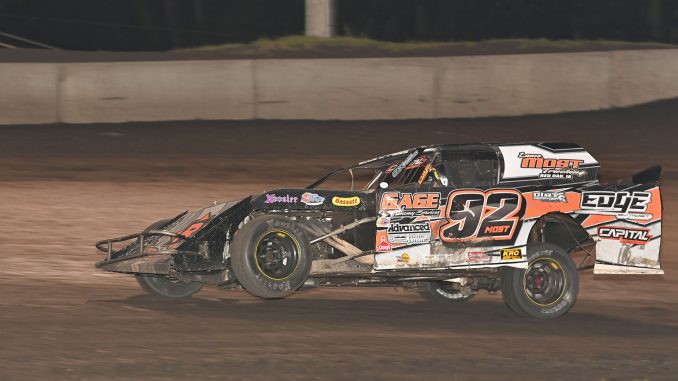 BOONE, Iowa (Sept. 7) – Josh Most gained redemption and Brayton Carter put on a clinic Tuesday night at the IMCA Speedway Motors Super Nationals fueled by Casey's. 
Both will start on the front row of Saturday's Northern SportMod main event at Boone Speedway.
Most, disqualified in post-race tech on Monday, led the last 18 of 25 laps in winning the first qualifying feature, holding off hard-charging Tyler Nerud, who rocketed toward the front all the way from 24th starting. Three cautions in the last six circuits kept the field close before the end of the green, white, checkered contest.
Fourteenth starting Adam Birck, Andrew Pearce, brothers Colby and Alec Fett, Bo Partain and Hunter Longnecker rounded out the top eight and will line up behind Most and Nerud in the middle row on Saturday.
Carter's drive to the checkers in the second qualifier was slowed only by a trio of early cautions. Working perfectly through lapped traffic much of the way, he was chased by Eric Elliott and then Izac Mallicoat before Kyle Olson took over the second spot with five laps left.
Elliott, Mallicoat, Nate Whitehurst, Jarett Franzen, Lee Horky and Tony Olson will start behind them on Saturday's outside row.
Last-chance qualifying on Wednesday fills the final six spots in the Northern SportMod grid.
Tony Olson is a nine-time qualifier for the Big Dance. Colby Fett and Carter are both in for the fifth time, Alec Fett and Whitehurst both for the fourth, Birck, Partain, Kyle Olson and Elliott for the third and Franzen the second.
Most, Nerud, Pearce, Longnecker, Mallicoat and Horky all are first-time qualifiers for the Northern SportMod main1st Northern SportMod qualifying feature – 1. Josh Most; 2. Tyler Nerud; 3. Adam Birck; 4. Andrew Pearce; 5. Colby Fett; 6. Alec Fett; 7. Bo Partain; 8. Hunter Longnecker; 9. Austin Schrage; 10. Brett Thomas; 11. Kaylin Lopez; 12. Jim Horejsi; 13. Bryan Morris; 14. Tim Eaton; 15. Cole Czarneski; 16. Jason Bannister; 17. Scott Busch; 18. Tyler Watts; 19. Colton Nelson; 20. Darren Medler; 21. Cody Brill; 22. Blair Simmons; 23. Brady Henderson; 24. Kyler Girard; 25. Zech Norgaard; 26. Logan Anderson; 27. Brian Schrage; 28. Jake Kubik; 29. David Hoover; 30. Taylor Kuehl. 2nd Northern SportMod qualifying feature – 1. Brayton Carter; 2. Kyle Olson; 3. Eric Elliott; 4. Izac Mallicoat; 5. Nate Whitehurst; 6. Jarett Franzen; 7. Lee Horky; 8. Tony Olson; 9. Johnathon Logue; 10. Doug Cook; 11. Kevin Johnson; 12. Kenny Wyman Jr.; 13. John Piker; 14. Maison Wheeler; 15. Jeff Lloyd; 16. Jay Goosman; 17. Tate Johnson; 18. Ty Rogers; 19. Justin Erickson; 20. Charlie Stevens; 21. Travis Burger; 22. Tyler Heckart; 23. Jackson Harpole; 24. Brendyn Nordyke; 25. Tim Rupp; 26. Timothy Warner; 27. Ben Stockton; 28. Chris Burke; 29. Maguire DeJong; 30. Bryce Allen.