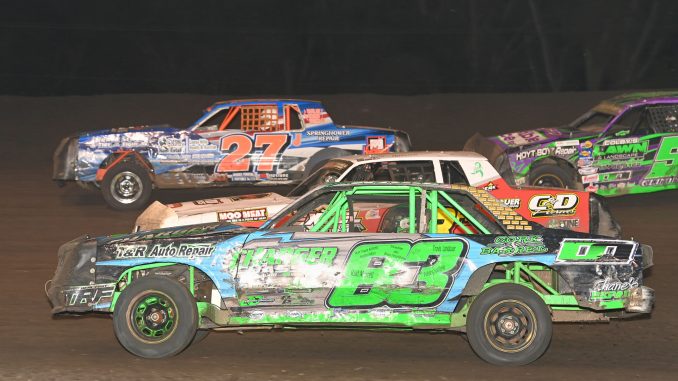 BOONE, Iowa (Sept. 7) – Jeff Ware led by the width of his bumper when the 24th lap was scored in Tuesday's IMCA Speedway Motors Super Nationals fueled by Casey's qualifying feature for Hobby Stocks. He stretched that advantage over Dan Strandberg to all of .82 of a second when the 25th and final lap was completed, earning the outside front row start in Saturday's main event at Boone Speedway. Ware made his drive from 14th starting, cracking the top three just after midway and taking over second with six laps left. Strandberg had led from the opening green, holding onto the front spot after the restart that followed Luke Phillips' lap nine rollover and again following the final caution on lap 19. Completing the top eight and advancing to the Saturday show were Blake Luinenburg, Cody Williams, Sal Hernandez, David Crimmins, Curt Reed and 27th starting Eric Knutson. Ware makes his sixth straight Saturday night start, Hernandez his career sixth start. Knutson and Strandberg qualified for the second time, Strandberg for the first time since 2006, and Luinenburg, Williams, Crimmins and Reed all go dancing for the first time.
A last-chance feature Wednesday completes Saturday's starting field of 30 Hobby Stocks. 
Hobby Stock qualifying feature – 1. Jeff Ware; 2. Dan Strandberg; 3. Blake Luinenburg; 4. Cody Williams; 5. Sal Hernandez; 6. David Crimmins; 7. Curt Reed; 8. Eric Knutson; 9. Travis Blythe; 10. David Carter; 11. Jackson Vsetecka; 12. Josh Vancannon; 13. Tylan Lambertus; 14. Jeremy Kinsey; 15. Matt McDonald; 16. Randy LaMar; 17. John Watson; 18. Adam Hensel; 19. Cory Stone; 20. Aaron Rudolph; 21. Austin Mehmen; 22. Jason Kohl; 23. Brandon Nielsen; 24. Zach Olmstead; 25. Chad Rigby; 26. Luke Phillips III; 27. Riley Songer; 28. Clint Nelson.