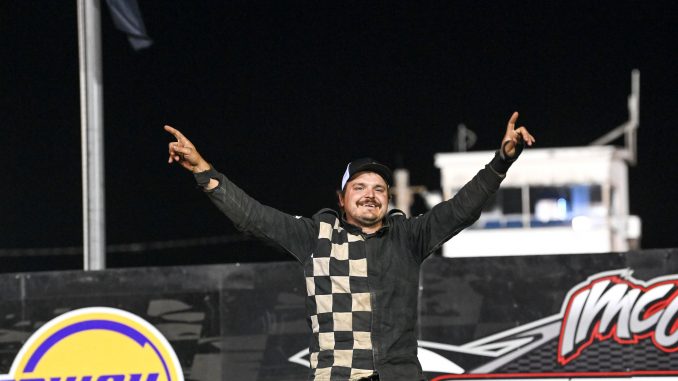 BOONE, Iowa (Sept. 7) – A little bit of faith and a fast car made Mitch Bielenberg a first-time IMCA Speedway Motors Super Nationals fueled by Casey's champion.
Bielenberg led all 25 laps of Tuesday's main event at Boone Speedway. The victory was his second in three nights at Iowa's Action Track, coming on the heels of his run to the Prelude checkers on Sunday, and paid $1,000.
"I won the Prelude and I finally won Super Nationals," said Bielenberg, who busted a post-race move on the roof of his ride, much to the delight of fans and photographers. "This car has been around a long time but I had faith in it. I said a prayer before we came out and hoped the thing would hold together."
Nineteenth in the Big Show at Boone in 2017 and 18th in 2019, Bielenberg won his heat and started the main event from the front of the middle row.
He was quickly out front, pulling away with Trent Reed running a distant second before Tyler Fiebelkorn came to a fiery stop with six laps left and brought out the red flag.
"The caution came at the worst possible time," Bielenberg said. "I was trying to keep my car warm and had both fans shut off."
Chuck Fullenkamp took over the runner-up spot on the ensuing restart. 2016 champion Josh Barnes ended in third and Drake Bohlmeyer was fourth.
Blaine Ellis, the first driver from Kentucky to qualify for a Super Nationals event in any division, raced from 21st starting to fifth. Hard charger Kimberly Abbott started last in the field of 30 and ended in 13th.
A third generation driver – his grandfather raced a Late Model until he was 80 years old – Bielenberg remembers his father with his nickname Dudeman on his trunk lid and his late brother Michael, his car's former owner with the United States Marine Corps motto Semper Fi on the visor.
He'll help daughter Paisley celebrate her third birthday on Sept. 12, hence his car number, before enjoying some time away from the race track.
"I'm going fishing," the newest Super Nationals champion stated.
Seventy Sport Compact drivers ran Tuesday at Boone, with six states represented in the main event. Fifteen of the 30 drivers starting the finale were first-time qualifiers.
Brandon Reu, Barnes and Abbott each made career fifth starts, Fullenkamp and 2011 champion Nathan Chandler both their seventh and two-time champion Nate Coopman his eighth.
Feature results – 1. Mitch Bielenberg, Charlotte; 2. Chuck Fullenkamp, West Point; 3. Josh Barnes, Keokuk; 4. Drake Bohlmeyer, Beatrice, Neb.; 5. Blaine Ellis, Sebree, Ky.; 6. Nate Coopman, Mankato, Minn.; 7. Cristian Grady, Cedar Rapids; 8. Brandon Reu, Donnellson; 9. R.J. Esqueda, Granada, Minn.; 10. Gavin Smith, Palmer, Texas; 11. Lucas Parsons, Burt; 12. Zach Bohlmeyer, Beatrice, Neb.; 13. Kimberly Abbott, Camp Point, Ill.; 14. Curtis Miller, Lewis; 15. Kolby Sabin, Des Moines; 16. Jay Crabill, Cedar Rapids; 17. Curtis Masterson, New Virginia; 18. Mike Vogt, Sioux City; 19. Jerry Coopman, Mankato, Minn.; 20. Braxton Wallace, Greenfield; 21. David Kimmel, New Virginia; 22. Nathan Chandler, Norway; 23. Trent Reed, Missouri Valley; 24. Caine Mahlberg, Dunlap; 25. Jaedon Erickson, Welcome, Minn.; 26. Devin Jones, Mason City; 27. Tyler Fiebelkorn, Stuart; 28. Jacob Schwab, Crete, Neb.; 29. Shannon Mahlberg, Dunlap; 30. Mick Ryhus, LeCenter, Minn.