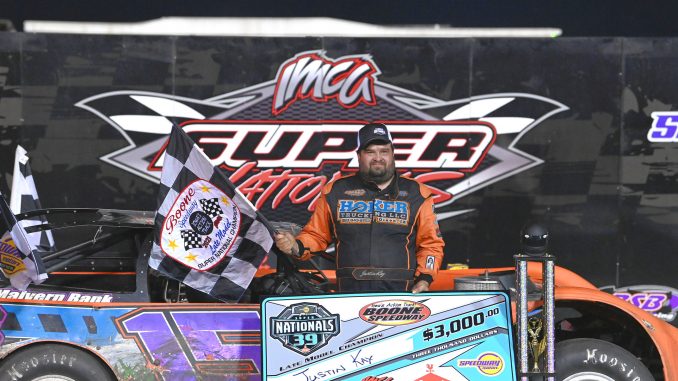 BOONE, Iowa (Sept. 6) – What had been an elusive championship became a first-time championship Monday night for Justin Kay.
Kay led all but two of 50 laps in winning the IMCA Speedway Motors Super Nationals fueled by Casey's Late Model main event at Boone Speedway, battling Cory Dumpert in a race that was as fast and furious from the first five circuits as it was to the last five.
"A Super Nationals championship has eluded me for years. I don't know for sure how many years we've been coming to Boone but I've finished second three times," Kay said. "It's so nice to finally get it. This is right up there with the national championships and the Deery Series championships. Super Nationals is the one everybody wants to win. It's awesome to finally get it."
The checkers were good for $3,000.
Kay drew the pole start, chased Dumpert across the stripe on laps two and three, then moved back in front for good the next time around the track.
Ninth starting Richie Gustin took over the runner-up spot after the second of two lap 20 cautions but Dumpert returned the favor following a lap 28 restart
Kay, Dumpert and Gustin ran 1-2-3 the rest of the way. Kay put a lapped car ahead of Dumpert with six laps left, then threaded two more lapped cars with three to go to seal the win.
Dumpert, Gustin and six-time champion Jeff Aikey completed the top five.
"Cory has been awesome this year and Richie is always good here. I just wanted to get it done," he said. "I had no idea how close Cory was, we just ran as fast as we could 'til the end."
Kay's first championship came in his career ninth Super Nationals start. He was the runner-up in 2014, 2015 and 2019.
Andy Nezworski was fifth while Brandon Rothzen moved up nine spots from his original start to pace first-time qualifiers with a sixth place showing.
Darrel DeFrance extended his perfect Super Nationals streak, qualifying for the 31st time.
Aikey qualified for the 23rd time, Todd Cooney for the 15th, 72-year-old Gary Webb the 14th and Joe Zrostlik the 10th.
Thirty-six Late Models vied Monday at Boone.
Feature results – 1. Justin Kay, Wheatland; 2. Cory Dumpert, York, Neb.; 3. Richie Gustin, Gilman; 4. Jeff Aikey, Cedar Falls; 5. Andy Nezworski, Blue Grass; 6. Brandon Rothzen, Mediapolis; 7. Jesse Sobbing, Malvern; 8. Nick Marolf, Moscow; 9. Bobby Hansen, Center Point; 10. Darrel DeFrance, Marshalltown; 11. Greg Krohn, Albion, Neb.; 12. Joe Zrostlik, Long Grove; 13. Gary Webb, Blue Grass; 14. Jon Passick, Waterloo; 15. Bryan Molt, Cedar Rapids, Neb.; 16. Kevin Kirkpatrick, Waterloo; 17. Logan Duffy, Independence; 18. Andrew Tilley, Council Bluffs; 19. Bryan Moreland, Durango; 20. Jacob Waterman, Colona, Ill.; 21. Blair Kraus, Omaha, Neb.; 22. Alex Banks, Newman Grove, Neb.; 23. Todd Cooney, Des Moines; 24. Mitch Manternach, Dyersville.