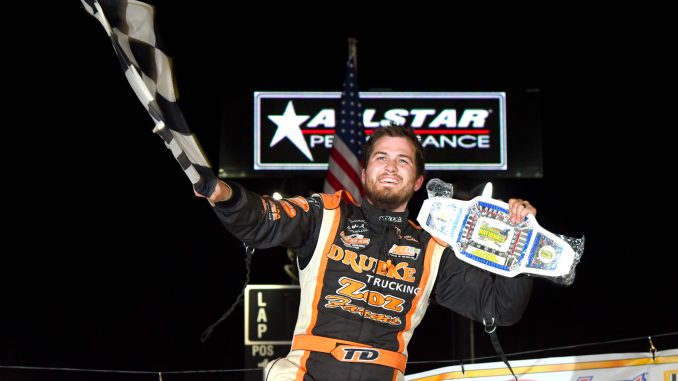 By Greg Soukup
EAGLE, Neb. (Sept. 5) – Sunday's huge crowd filed into Eagle Raceway filled with excitement at the opportunity to see who would be crowned the champion of the ninth annual IMCA RaceSaver Nationals.
The old saying "You buy the whole seat but will only need the edge" surely applied as the competitors ran through seven preliminary races hoping they could be one of the nine who would transfer into the final three rows of the Big Dance.
Those who did make it out of the "Bs" were Clint Benson, Chase Brewer, Gene Ackland, Toby Chapman, John Ricketts, Brandon Bosma, Zach Blurton, Nate Weiler and Kyle Rasmussen. They headed to the pits to prepare their mounts along with those who had qualified on Friday and Saturday.
Thirteen Sprint Cars performed the missing man formation, held to honor the 13 fallen service men and women who gave their lives in Afghanistan, touching each and everyone's hearts.
The traditional driver introduction added even more tension as the 27 top IMCA RaceSaver drivers on the weekend stood front and center of the grandstands and took a brief moment in the spotlight before climbing back into their cars to strap in and prepare to get elbows up for the Big Dance.
Everybody was rooting for their favorite driver, knowing that in just minutes all 27 of them would hurtle into turn one three wide and pedal to the metal. Lap one saw Jason Martin snag the lead from his pole position starting spot, Tyler Drueke second, Luke Cranston third and Jason Danley rounding out the top four.
John Ricketts slowed to a stop on the back stretch for a caution. He and Mark Pace both headed to the pits. The restart saw John Carney II pass Danley for fourth before taking over the third spot a lap later. Drueke passed Martin for the lead the next time around.
Danley regained fourth on lap five. The red flag flew on lap eight when both Trevor Grossenbacher and Chase Brewer went flipping in turns three and four. Both were towed to the pits. Carney advanced to second on lap 11. He got past Drueke on lap 19 but the pass was negated when Danny Wood slowed, bringing out the caution flag.
Carney made the pass stick on the restart, setting up the best finish to a sprint car race that I've ever witnessed. Cranston clawed his way back into the fourth spot the next time around. There were just three circuits remaining when Toby Chapman stopped at the top of turn four and the yellow lights again were lit in the corners.
The battle intensified as Drueke tried everything he could to catch and pass Carney. Two laps were left when Dusty Ballenger rolled in turns three and four. Diving under Carney at both ends of the track, Drueke could catch and pull even with Carney but just couldn't quite make it stick.
A lap after the restart, Cranston moved to third. That set up what can only be called the finish for the ages. Drueke pulled even with Carney in turns three and four on the final circuit and they banged wheels.
They banged into each other very hard coming to the checkers with Drueke eking out the win by just .27 seconds and the crowd erupted after seeing a local driver capture the biggest race in the IMCA RaceSaver division at the biggest Sprint Car race in the world!
The final top four were Drueke, Carney, Martin and Danley.
I spoke to Carney after the race and he related "I got a good start there at the beginning because the cars just kind of moved out of my way and I got up to fifth really quick. I picked off a couple more cars and we were sitting right where we wanted to be early in the race. The fans got their money's worth this weekend, that's for sure!
"On that one restart we made one lap and I could see Drueke under me and then we had that caution, so we still had three to go," Carney continued. "He had a fast race car, we had a fast race car. We went back and forth a couple times. I had a run on him around the top coming to the checkers and he squeezed me into the wall because he wasn't going to let me have it. It was close, and I would never do the same thing. Even when I passed him earlier, he ran me down into the infield. I didn't really expect that from him, I've never seen him do that. I understand that he wants to win the race too, so it's all good."
Once the final fan had congratulated Tyler, I got the chance to speak with him. I must say that I may have seen bigger smiles and more joy on a face sometime, but I don't remember when.
"That's the big one! We've been hunting this one for a long time. Martin and Cranston squeezed me out at the start, so I did my best to be sure I came out of it in second. Jason was setting a really good pace on the bottom, but these cars are so equal that I knew I had to just stay close and capitalize when they make a mistake," he said. "I got better as the race went along and finally was able to pass Jason. I was really good in the middle part of the race and passed Jason down in three and four. I must have stuck it pretty good because I never saw him again.
"As the race went on it kind of went away and John was better at the end than we were," he added. "We raced really hard and he got by me down in three and four and pulled away six or eight car lengths. I told myself that we needed lapped traffic and that it wasn't over yet, so just stay with it and try to keep pace. I needed to stayclose so that when a mistake happened or lapped traffic got in his way, we could capitalize on it."
"The restart before the final one, his motor took off better than ours and he got the jump on me. I was able to use my experience here at Eagle to get to his inside. I had the run down the back stretch when the red came out," Drueke said. "I thought it was all over after that. Luckily, I don't know if he didn't see me or what, but he changed it up a little bit. I was able to kind of snooker him, so we started trading spots and racing really hard. We ended up getting a little physical down the back stretch. He missed the bottom off of turn two and he squeezed me down the back stretch.
"That was a 'Win it or wear it' moment, so I sailed it in there. I knew that if I slid across the exit of four that he could cross over and beat me back to the line, so I did my best to hold the bottom and middle and stick it. I got off of the corner pretty good, but he had the banking and the run down the front stretch," Drueke continued. "He was going back by me coming to the line, so about 150 feet before the checkered I probably just squeezed him a little bit and tried to break his momentum. It was the old 'Cole Trickle in Days of Thunder' deal and it worked out. I wasn't even sure that we had won it until I came back around and saw 12 on top of the leader board. I was pretty excited! You never want to squeeze anybody or rough anybody up, but John and I race really hard, and we race really tight. I figured coming to the checkered it was fair game, with such a big win on the line that we wait all year long for. We've been working on this car all season, changing things around all just trying to put us into position to win this deal. It sure feels good that all that hard work all year finally paid off."
Feature results – 1. Tyler Drueke, Eagle; 2. John Carney Lubbock, Texas; 3. Jason Martin, Crete; 4. Jason Danley, Lincoln; 5. Luke Cranston, Holcomb, Kan.; 6. Dustin Stroup Fremont, Ohio; 7. Kevin Ramey, Fort Worth, Texas; 8. Shon Pointer, Grand Island; 9. Chad Wilson, North Richland Hills, Texas; 10. Stuart Snyder, Lincoln; 11. Tyler Harris, Vidor, Texas; 12. Zach Blurton, Quinter, Kan.; 13. Claud Estes Godley, Texas; 14. Gene Ackland, Martell; 15. Kyle Rasmussen, Clovis, Calif.; 16. Ryan Hall, Midlothian, Texas; 17. Toby Chapman Panama; 18. Dusty Ballenger, Harrisburg, S.D.; 19. Clint Benson, Papillion; 20. Danny Wood, Norman, Okla.; 21. Nathan Weiler, Omaha; 22. Joey Danley, Martell; 23. Chase Brewer, Waxahachie, Texas; 24. Trevor Grossenbacher, Panama; 25. John Ricketts, Burleson, Texas; 26. Mark Pace, Lincoln; 27. Brandon Bosma, Rock Rapids, Iowa.