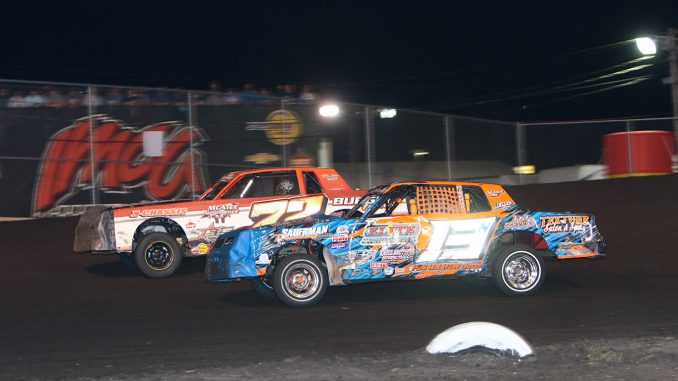 BOONE, Iowa (Sept. 6) – The last two drivers to win Hobby Stock championships at the IMCA Speedway Motors Super Nationals fueled by Casey's raced to qualifying feature wins and corresponding front row starts for Saturday's main event at Boone Speedway.
Defending champ Nathan Ballard got the best of Kaden Reynolds in Monday night's first qualifier, interrupted early on when a power outage left the track in the dark.
After an impromptu karaoke session, the lights came back on and Ballard led Reynolds, Mike Smith, Solomon Bennett, 14th starting Malik Sampson, Drew Barglof, James Johnson and Jeremy Purdy to starting spots on the inside row for Saturday's Big Dance.
Nelson, the 2019 champion and 2020 runner-up, raced from 10th to win the second qualifier. Matt Brown, 14th starting Braden Richards, Luke Ramsey, Josh Sidles, 18th starting Dillon Magnussen, Jacob Floyd and Eric Stanton. They'll advance in that order to the middle row Saturday night.
Sidles and Magnussen are first-time qualifiers, Smith, Purdy, Richards, Ramsey and Floyd are each in the main event for the second time and Reynolds, Bennett, Johnson and Nelson all make career third Saturday night starts.
Brown goes dancing for the fourth time, Ballard, Sampson and Barglof each for the sixth and Stanton the 12th.
Hurryin' Missourian Ryan Gillmore, AKA the pride of Springfield, won Monday's Northern SportMod qualifier and pole start for the Saturday main event.
Prelude winner Austen Becerra, 14th starting Dylan VanWyk, 23rd starting Jayden Schmidt, Tyler Inman, Robbie Thome, Cameron Meyer and Tyler Bannister completed the top eight and will line up behind Gillmore on Saturday.
Gillmore, Schmidt, Thome, Meyer and Bannister are all first-time qualifiers. VanWyk races on Saturday for the second time, Becerra and Inman both for the third.
One hundred and seventy-six Northern SportMods and 127 Hobby Stocks saw Monday qualifying action at Boone.
1st Hobby Stock qualifier – 1. Nathan Ballard, Marengo; 2. Kaden Reynolds, Cedar Rapids; 3. Mike Smith, Lake City; 4. Solomon Bennett, Minburn; 5. Malik Sampson, Worthington, Minn.; 6. Drew Barglof, Sioux Rapids; 7. James Johnson, Cherokee; 8. Jeremy Purdy, Bedford; 9. Rusty Bates, Casey; 10. Cory Stone, Lovington, N.M.; 11. Joe Peterson, Chandler, Ariz.; 12. Blake Luinenburg, Reading, Minn.; 13. Randy LaMar, Buffalo; 14. Seth Janssen, Ogden; 15. Kyle Parizek, Hartwick; 16. Seth Butler, Scranton; 17. Brandon Nielsen, Spencer; 18. Riley Paysen, Wall Lake; 19. Darin Johnson, Dickens; 20. Zach Hemmingsen, Marne; 21. Jeff Ware; 22. Jesse Vanlaningham, Beatrice, Neb.; 23. Jordan Androy, Elk Horn; 24. Blake Arends, Little Rock; 25. Sal Hernandez, Columbus, Neb.; 26. Tyson Overton, Carlisle; 27. John Watson, Des Moines; 28. Chad Rigby, Madrid.
2nd Hobby Stock qualifier – 1. Dylan Nelson, Adel; 2. Matt Brown, Dysart; 3. Braden Richards, Madrid; 4. Luke Ramsey, Bedford; 5. Josh Sidles, Emmetsburg; 6. Dillon Magnussen, Newell; 7. Jacob Floyd, Cedar Rapids; 8. Eric Stanton, Carlisle; 9. Eric Knutson, Slater; 10. Shaun Wirtz, Boone; 11. Stephen Doss, Boone; 12. Andy Hoffman, Sioux City; 13. Zach Bales, Merrill; 14. Scott Siems, Cedar Rapids; 15. Russ Olson, Cedar Rapids; 16. Josh Vancannon, Ogden; 17. Skylar Pruitt, Stuart; 18. Jason Ruby, Minot, N.D.; 19. Carter Koop, Rockwell; 20. Luke Phillips III, Wapello; 21. Matt McDonald, Scranton; 22. Curt Reed, Des Moines; 23. Adam Hensel, Atlantic; 24. Brandon Bombardo, Lonsdale, Minn.; 25. Aaron Rudolph, Grand Junction; 26. Clint Nelson, Baxter; 27. Ryan Fajman, Albion, Neb.; 28. Matthew McAtee, Elkhart.
Northern SportMod qualifier – 1. Ryan Gillmore, Springfield, Mo.; 2. Austen Becerra, Carthage, Ill.; 3. Dylan VanWyk, Oskaloosa; 4. Jayden Schmidt, Seymour, Wis.; 5. Tyler Inman, Altoona; 6. Robbie Thome, Spalding, Neb.; 7. Cameron Meyer, Pierce, Neb.; 8. Tyler Bannister, Bakersfield, Calif.; 9. Austin Schrage, Cresco; 10. Chase Alves, Casa Grande, Ariz.; 11. Brett Thomas, Cedar Rapids; 12. Kenny Wyman Jr., Marshalltown; 13. Colton Nelson, Osceola; 14. Ben Chapman, Clarence; 15. Kaylin Lopez, Chowchilla, Calif.; 16. Johnathon Logue, Logansport; 17. Ryan Schmidt, Hortonville, Wis.; 18. Izac Mallicoat, Boone; 19. Kelly Henderson, Minot, N.D.; 20. Tyler Soppe, Sherrill; 21. Jim Horejsi, Marshall, Minn.; 22. Michael Parcel, Bondurant; 23. Chad Ryerson, Wellsburg; 24. Jacob Olmstead, Overton, Neb.; 25. Curtis Veber, Polk City; 26. Brady Bjella, Williston, N.D.; 27. Maguire DeJong, Montezuma; 28. Tim Stallbaumer, Tecumseh, Kan.; 29. Taylor Kuehl, Cave Creek, Ariz.; 30. Josh Most, Red Oak.