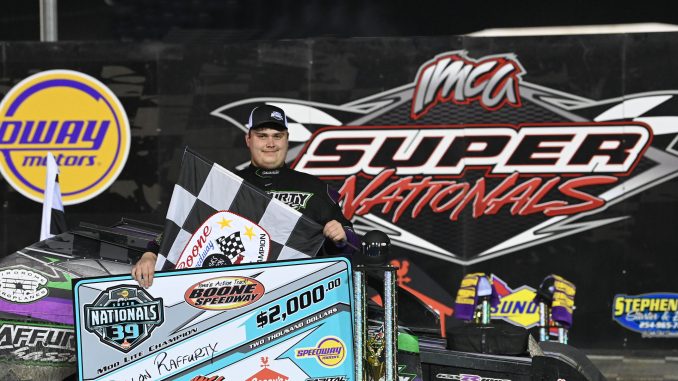 BOONE, Iowa (Sept. 5) – Dillon Raffurty already had more than 20 feature wins to his credit this season when he loaded up the trailer for Boone Speedway and the IMCA Speedway Motors Super Nationals fueled by Casey's.
On Sunday, the Kansas City, Mo., driver raced to his biggest wins of the season, topping both the first-ever race of champions and inaugural Super Nationals main event for IMCA STARS Mod Lites.
"It seems like everything was meant to be," said Raffurty, who battled Bryan Zehm early and then saw Garrett Stonum pull within half a car length late in the contest. "This means a lot to me. I don't think it gets bigger than winning Super Nationals … no one else can say they were the first-ever Super Nationals Mod Lite champion."
The checkers were good for $2,000, plus a $250 bonus from Yoshimura. Hometown driver Mike Kennedy had started 10th and slipped past Stonum on the last lap for second. Bryce Vowan of Memphis, Tenn., and Zehm, of Ames, completed the top five.
"Mike is a great buddy," Raffurty said, "and Garrett is in a chassis we built."
Forty-nine Mod Lite drivers from nine states competed at Super Nationals and all nine of those states were represented in the 30-car field for the Big Dance.
The pole starter by virtue of his qualifying feature victory on Saturday, Raffurty led all 30 laps of a main event slowed by three early cautions, then saw big leads erased by yellows at midway and again with five laps to go.
"I was trying to look at the Jumbotron (in turn four) to see what I could. It's hard to get back to the bottom when someone has taken it away from you," the national points leader said of the last restart. "We won here earlier this season and I had said that winning Super Nationals, especially in my own chassis, would be my biggest win, and we were able to do that tonight."
Also the first champion crowned during the 39th annual Super Nationals, Raffurty is just the second Missouri driver to win a Super Nationals crown. Springfield's Wayne Graybeal was the Modified king in 1992.
Stonum raced from 17th starting while hard charger Cory Sonner of Huxley improved 18 positions to seventh. Austin Gray of Story City was a plus 16 to eighth.
Feature results – 1. Dillon Raffurty, Kansas City, Mo.; 2. Mike Kennedy, Boone; 3. Garrett Stonum, Lawson, Mo.; 4. Bryce Vowan, Memphis, Tenn.; 5. Bryan Zehm, Ames; 6. Jeromy Wilson, Mabelvale, Ark.; 7. Cory Sonner, Huxley; 8. Austin Gray, Story City; 9. Josh May, Des Moines; 10. Ryan Ayers, Salina, Kan.; 11. Brandon Freeburg, Metamora, Ill.; 12. Zac Forster, Bakersfield, Calif.; 13. Justin Raffurty, Kearney, Mo.; 14. Dustin Rude, Danbury, Texas; 15. Johnny Brown Jr., Mauriceville, Texas; 16. Dylan Hollingshead, Sheridan, Ark.; 17. Nathan Wolfe, Lees Summit, Mo.; 18. Kevin Carl, Port Neches, Texas; 19. Dylan Dunn, Beverly Hills, Fla.; 20. Cliff Barber, Nevada; 21. Ed Griggs, Pleasant Hill, Mo.; 22. Jeff Asher, Park Hills, Mo.; 23. Michael Raffurty, Kansas City, Mo.; 24. Darrick Knutsen, Cedar Rapids; 25. Randy Bryan, Ames; 26. Blake Wilson, Mabelvale, Ark.; 27. Robert McCollett, Texarkana, Texas; 28. Jason Masengarb, Colona, Ill.; 29. Justin Kinderknecht, Salina, Kan.; 30. Cameron Wagner, Bismarck, Ark.