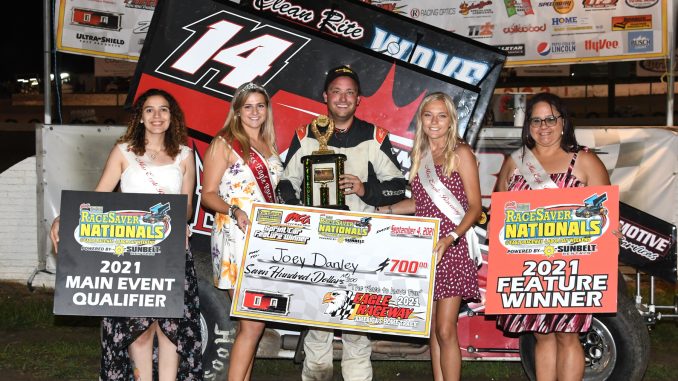 By Greg Soukup
EAGLE, Neb. (Sept. 4) – Sunny skies and low 80 degree temperatures greeted the large crowd for round two of the ninth annual IMCA RaceSaver Nationals at Eagle Raceway Saturday afternoon.
Cars that hadn't qualified Friday ran 12 heats and 6 preliminary features to make their bid for a shot at the "A" main, vying for a top nine finish to earn a place in rows four through six for Sunday's Big Dance.
Trevor Grossenbacher took advantage of his pole position starting spot to grab the lead after the first lap of the feature. Close behind were Claud Estes, Tyler Harris and Danny Wood. Joey Danley advanced from seventh and passed Wood for fourth on lap four.
Danley passed Harris for third on a restart. John Carney II cracked the top four with 12 laps to go and Danley and Carney both moved up one spot with nine laps remaining, taking second and third, respectively.
Carney got past Danley briefly with four circuits left but Danley got a tremendous run the next time around and passed both Carney and Grossenbacher. Carney moved to second with two to go, making the final top four Danley, Carney, Estes and Grossenbacher.
Also transferring to the big dance were Tyler Harris, Kevin Ramey, Danny Wood, Justin Stroup and Chad Wilson.
"I was beyond happy with that win. I really only hoped to lock into the top nine to make the 'A' feature on Sunday," Danley said. "The car was really, really good. I was just kind of rolling around the first few laps and made it up to fifth.
"We got a yellow and that lined us all back up. We just picked them off one by one after that. I didn't expect to catch Trevor," he added. "The whole top five were awesome cars and drivers and I'm still shocked that we got by them all."
Danley, Wood, Tyler Drueke and Mike Moore were first back to the flag stand on lap one of the Precise Racing Products Race of Champions. Jason Martin got past Moore on a lap two restart and Drueke jumped past both Danley and Wood to grab the lead the next lap.
Wood followed Drueke into second the next time around and the battle was on. Drueke went high, Wood went high. Drueke went low, Wood went low. In traffic they were taking turns with who ran where. Wood passed Drueke very briefly with five to go but Drueke battled back and held on to win. The top four were Drueke, Wood, Martin and Moore.
Adam Armstrong was the Karl Kustoms Northern SportMod winner.