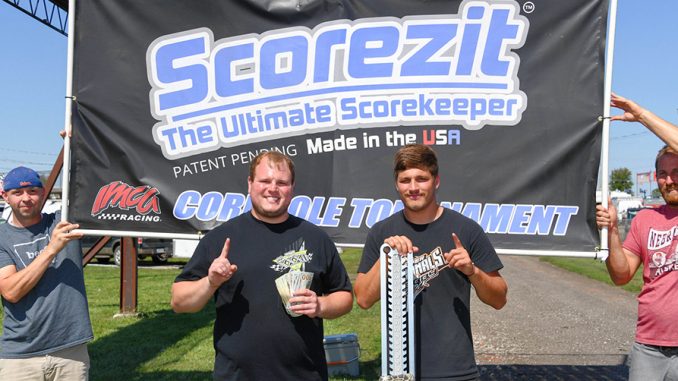 BOONE, Iowa (Sept. 5) – Cousins Damon Arehart and Jayden Arehart make up the Corn Bros duo that won Sunday's cornhole tournament at Boone Speedway.
The first champions crowned during the extended week of the IMCA Speedway Motors Super Nationals fueled by Casey's earned $1,000 for their bag-tossing efforts, defeating the Game Changers pair of Jason Michalec and Chris Blood in the 105th and final game of the Scorezit-sponsored tourney.
"We are way far from professional," said Damon, a Wayne State University graduate. "We usually play once a week, whenever we have time."
Jayden is a student at Wayne State, said their winnings would come in handy toward tuition and shared a bit of the Areharts' cornhole success.
"You've got to have luck on your side," he said.
Fifty-plus teams, each of them associated with a driver competing at Super Nationals, vied. The runners-up earned $600 while the aptly named Young Guns, Waylon Estep and Landen Lang, took third and pocketed $240.
Fourth and $120 went to Given the L teammates Lee Gard and Reams Lowen. Shane Stout and Ray Lemke, aka DQ Tech, took fifth and $80. Rounding out the top six and collecting $40 were Bubba Thorne and Jason Bruns, Team Glory Hole.
Top two teams also received a Scorezit scorekeeper.
A second Scorezit-sponsored cornhole tournament sees 48 two-person teams battling it out for shares of $1,920 on Friday, Sept. 10. That tourney also has a 100 percent payback.