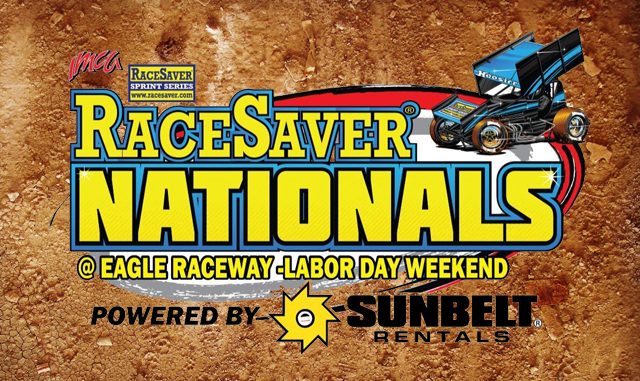 By Greg Soukup
EAGLE, Neb. (Sept. 3) – The late-arriving crowd for night one of the ninth annual IMCA Racesaver Sprint Nationals Powered by Sunbelt Rentals Friday at Eagle Raceway found that once again the term 'Biggest Sprint Car Race in the World' was in fact true as 100 Sprint teams swelled the pits.
The heavy rain that canceled the previous night's action left the track narrow at the start and tricky as well.
The "A" feature saw Ryan Hall, Mark Pace, John Paynter Jr. and Jason Martin the top four on lap one. Junior Jenkins and Ryan King went flipping in turns three and four and the red lights came on in the corners. There were several others involved, including Jay Russell and Trevor Grossenbacher, who suffered front wing damage but returned to the fray.
Paynter got past Pace on the restart for second. Martin also passed Pace on lap six and got around Paynter on lap nine to grab second. The next lap saw Tyler Drueke put the no. 12 car into fourth.
Martin moved to the lead with 10 to go. Drueke advanced to second with four laps remaining as Paynter held third and Hall was in fourth. Hall and Paynter swapped spots the next two laps. The final lap saw Luke Cranston put his no. 20C into fourth.
The first four to the checkers were Martin, Drueke ­– from the C feature – Paynter and Cranston. Paynter was disqualified in post-race tech for titanium u-joint bolts, moving Cranston to third and Hall to fourth.
That set the first three rows for Sunday's Big Dance where the three-wide start will see Martin, Drueke, Cranston, Hall, Jason Danley, Shon Pointer, Stu Snyder, Mark Pace and Dusty Ballenger heading the field.
Martin had walked away from the field the week before at the season-ending show at Eagle.
"It was a good race and things are going good for us … I figured we were going to get into lapped traffic, but then that crash took out five or six cars and lapped traffic didn't really come into play. I had to start searching to try and find a different groove to gain some ground and luckily that worked out for me," he said.
The IMCA Sunoco Hobby Stock feature saw Jeff Watts first back to the flag stand with Brad Schreiner, Mike Hansen and Ben Becher rounding out the top four.
Adam Wasserman passed Becher with 10 to go. Schreiner grabbed the lead with seven circuits left as Hansen also passed Watts five laps later. There was one to go when Schreiner and Nick Langan made hard contact in turn four, resulting in both cars being towed off. There were no further changes in the top four with Hansen snagging the win, Watts second, Wasserman third and Chad Borgman fourth.
"I had to work for that one. I had a shot to win it when I caught Brad but I got slowed up by some lapped traffic," Hansen said. "I tried a little too hard but got lucky with a second chance and sometimes that's all you need is that second chance in life. But I'll take this one."
The final action of the night saw qualifying heats for the Precise Racing Products Race of Champions on Saturday. Winners of those heats were Jason Danley, Ethan Barrow, Danny Wood, Tyler Drueke and Mike Moore.
Feature Results
Sprint Cars – 1. Jason Martin Crete; 2. Tyler Drueke, Eagle; 3. Luke Cranston, Holcomb, Kan.; 4. Ryan Hall, Midlothian, Texas; 5. Jason Danley, Lincoln; 6. Shon Pointer, Grand Island; 7. Stuart Snyder, Lincoln; 8. Mark Pace, Lincoln; 9. Dusty Ballenger, Harrisburg, S.D.; 10. Clint Benson, Papillion; 11. Mike Houseman Jr., Des Moines, Iowa; 12. Jeff Emerson, Millsap, Texas; 13. Jay Russell, Wathena, Kan.; 14. William Johnson, St. Peter, Minn.; 15. Junior Jenkins Greenville, Texas; 16. Ryan King, Bennet; 17. Rod Henning, Monrovia, Ind.; 18. Trevor Grossenbacher, Panama; 19. Chase Brewer Waxahachie, Texas.
Hobby Stocks – 1. Michael Hansen; 2. Jeff Watts; 3. Adam Wasserman; 4. Chad Borgman; 5. Ryan Gilland; 6. Ben Becher; 7. Don Hall Jr.; 8. David Carter; 9. Cole Krichau; 10. Kyle Gannon; 11. Tim Lapointe; 12. Jeff Oehm; 13. Jeff Dodd; 14. Brad Schreiner; 15. Nick Langan; 16. Dylan Reicks.