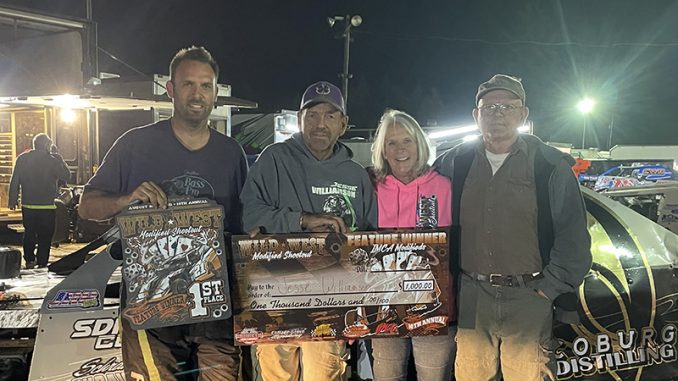 By Ben Deatherage
ELMA, Wash. (Aug. 14) – Jesse Williamson won the battle while Collen Winebarger won the war Saturday at Grays Harbors Raceway.
Williamson raced to his third $1,000 Wild West IMCA Modified Shootout victory of the week in the series' sole Washington State stop of the week. Winebarger, a three-time Shootout winner as well, ended in third, good enough to clinch his first ever Shootout title.
After leading the field the first lap, Winebarger set an ever quicker pace before he was caught and overtaken on lap 17 by Grey Ferrando.
Ferrando was the trailblazer for a bit of time until he had some fast company with the likes of Jesse Williamson.
Williamson seized the top-place position on lap 26 only to see Ferrando take the coveted top spot back on the 30th circuit. Williamson kept his composure, got back around Ferrando on lap 38 and led to the end of the 40-lapper.
The win was Williamson's career 15th on the tour and eighth in IMCA Speedway Motors Weekly Racing action this season.
Ferrando was the runner-up, followed by Winebarger, Eston Whisler and Tyson Blood.
A regular with the tour since 2013, Winebarger was the series champion by just seven markers. He is the sixth different driver in 10 seasons to win a championship with the Wild West Modified Shootout.
Feature results – 1. Jesse Williamson; 2. Grey Ferrando; 3. Collen Winebarger; 4. Eston Whisler; 5. Tyson Blood; 6. Bricen James; 7. Scott Miller; 8. Aaron Elwess; 9. Tom Sweatman; 10. Ian Whisler; 11. Zack Simpson; 12. Brenton Schnitzer; 13. Jason Tole; 14. Devan West; 15. Tyler Walker; 16. Josh Sheller; 17. Brian Izzi; 18. Jerry Schram; 19. Cory Sweatman; 20. Devon Reed; 21. Zackery Fuller; 22. Kevin Hanson; 23. Matt Arnold; 24. Elliot French; 25. Brian Harding.