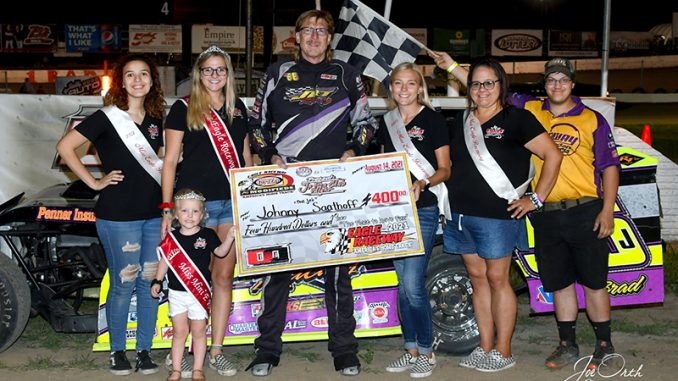 BEATRICE, Neb. – He has four national championships, 24 track championships and 354 feature wins on his IMCA Modified resume.
The accomplishment Johnny Saathoff ranks right with those feats is walking across the infield stage during the driver introductions preceding the Saturday night Modified main event at the IMCA Speedway Motors Super Nationals fueled by Casey's.
"It's pretty cool when you're walking across the stage and shaking the hand of Speedy Bill Smith," said Saathoff, a 15-time main event qualifier and runner-up in the 2010 Big Dance. "Your step is a lot lighter when you're walking through the pits at Boone Speedway after you've done that."
From Beatrice, Neb., Saathoff is in his 42nd season on the track.
A first-time qualifier at Boone in the 1995 Late Model main event, he won the Race of Champions at Super Nationals in 1997 and 1998 and has experienced highs and lows in Modified qualifying and the main event since.
"It's always cool to make the show," said Saathoff, owner of Jet Racing, "From the business side, when I go to Super Nationals I like being able to meet a lot of the younger drivers and put names with the faces I've seen on IMCA.TV. I get to see the kids who do the work on their car and to get to the track be successful."
"From a personal side, you get to see a lot of the people who have been with you through the ups and downs," he added. "It makes me think about how many more years I'll race. I keep thinking maybe some year I'll just travel and race, but I haven't gotten to that point yet."
Aside from the average age of his competition, the biggest difference the Jet sees in the sport then and now is the use of social media to share information.
"I look back now at how much time we spent trying to make our car faster and have to shake my head. Everybody has social media now so the technology is there for drivers to go to Youtube or Facebook and find out what to do with their car," he said, adding with a laugh "we used to have to wait for Hawkeye Racing News to come in the mail or call somebody to find out who finished where. I can remember calling Gary Webb and Bob Hill on a landline."
Son Jaxon has started an IMCA Modified career of his own and Saathoff enjoys his success more than his own.
"There are people who think I should retire and help him, and I know that day will come," Saathoff said. "Right now, it's pretty cool that we can race together."