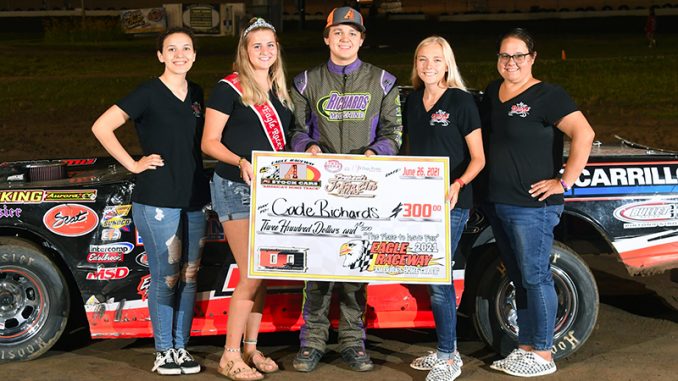 By Greg Svoboda
LINCOLN, Neb. – After some bad luck back in May, including when the rear end housing on his Karl Kustoms Northern SportMod broke sidelining that part of his racing program, things turned around for Cade Richards as soon as the calendar page turned to June.
His series of good IMCA Sunoco Stock Car runs began on June 3 when he brought home a clean sweep of the card at US 30 Speedway, winning his heat from the third row and getting the win in the main event after taking off in fourth.
"It was a good night. It seems like we're getting a good cushion there now," he said. "We think we've pretty much got it figured out what the track is going to do, and we've been really fast there lately."
The following night the team towed to Beatrice Speedway. He again won his heat on a tricky track. Richards took off from the pole position and managed to grab the victory from second place Jordan Grabouski and Kyle Vanover in third.
"It was really slick. I didn't mind it at all, but since ours was the first feature it was tricky with it being so hot out," said Richards. "It's a big deal to be able to beat great drivers like that, especially winning in our homemade car that we did all on our own. That makes it even more rewarding. It's exciting just to be able to run with those guys, but to beat them is amazing."
The team towed to Eagle Raceway to round out the weekend the next night. He managed a third place in his heat and duplicated that with a third place podium spot in the feature behind Grabouski and Shane Stutzman.
The following Thursday marked a return to US 30. Just as he had the week prior, he made another clean sweep of the program.
"It was another good night and we started off good. I started eighth in the feature and snagged the lead four or five laps in. That gave me the clean track to really get going. I'm really enjoying myself. It's great to be able to win at all the different tracks but it's tougher at both US 30 and Beatrice Speedway because they tend to get slick. That makes it tough if you're in a Stock Car," Richards stated.
He didn't get the chance to race at Beatrice the following night because of heavy rains during the day.
Saturday, June 12 saw him back at Eagle Raceway. After finishing second in his heat, he worked his way up to second in the feature.
After diving under leader Damon Richards, he got a great run off of turn four and was side by side for the lead, only to have his efforts go for naught as the yellow flag came out for a spun car. On the restart the leader moved to the bottom to block him. Vanover took quick advantage of that move, flying around the top to move to first.
In the closing laps he fell back another spot to finish fourth behind Vanover, Richards, and Shane Stutzman.
Richards made the trip to Dawson County Raceway the following evening. Cade made a big run in his heat, winning from seventh and getting a second place finish in the feature. Unfortunately, he had badly overheated his engine. That would come back to bite him later in the month.
"The engine got up to 300 degrees and the next week or so we had a problem with the engine almost shutting off once in a while," he explained.
June 17 saw Richards back at US 30 and to no one's surprise, he again made a clean sweep of the night.
"It seems like we've got our car figured out for the slick, flat tracks. It works so good on them. It makes it easier to drive because we're so tuned in on them," he explained.
While doing maintenance on the car, they found that a fuel line was partially collapsed due to the overheating plus the distributor was not working properly. They replaced the line and thought they were good to go.
The next night saw a return to Beatrice Speedway where he got the runner-up spot in his heat and finished third behind Vanover and Grabouski in the "A" main.
"The track was smooth but they had it a little tackier. The distributor got messed up at Dawson County and we didn't catch it. As the feature went on it started acting up and I was losing power the last five or six laps," he said. "I ended up almost completely losing power the last three laps and Grabouski and Vanover got around me."
When they got home they replaced the distributor.
Saturday evening meant another trip to Eagle Raceway. He finished second in his heat but could do no better than fifth in the feature.
US 30 rained out on June 24 and the next night Richards came in third in his heat at Beatrice Speedway and managed to get yet another win.
The final race of the month came at Eagle Raceway on the 26th and guess what … It was another clean sweep for the 16-year-old.
"We were able to find our way through there and get out front. Then the clean air really helped and I could run anywhere I wanted to. I felt like we ran a really good race tonight. I've gotten my 25 races in, so now I can start knocking off a couple bad runs and hopefully win the national rookie of the year in Stock Cars."
If he gets the crown it would be his second after taking the rookie of the Year crown in the Northern SportMods a couple of years ago. He currently sits in the fourth spot for the overall National Points Championship and leads regional and national rookie standings.
If this young man can keep these kind of finishes going, how long before he is getting called Cade Clean Sweep Richards?