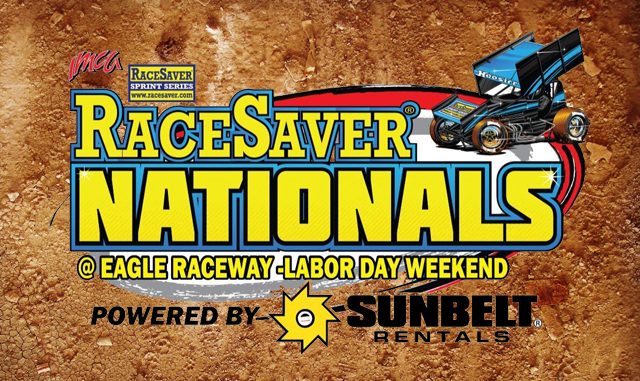 By Greg Soukup
EAGLE, Neb. – It's the time of year when all fans of the IMCA RaceSaver Sprint Cars start looking forward to the Big Dance. Just a month and a half from now, the ninth annual IMCA RaceSaver Nationals presented by Sunbelt Rentals will be run at its birthplace, Eagle Raceway.
The brainchild of Roger Hadan, who wanted to give drivers in the division a place to show their mettle on a national scale, began in 2013 with 55 drivers competing and has grown ever since. So far this year there are 65 teams pre-entered with many more to come. Can we break our record of 117 this year?
This year's action begins on Thursday, Sept. 2 with a practice night to allow those who don't usually have the opportunity to run the high banks of America's Home Track to familiarize themselves with the racing surface.
Pre-tech begins at 9 a.m. with breakfast available to the teams from 9:30-11 a.m. Practice will run from 6-8:40 p.m. followed by qualifying for the Precise Racing Products Race of Champions on Saturday. Front gate admission is $3 with those 12 and under free. Grandstands and pits open at 5 p.m. with pit passes $15.
The competition begins in earnest on Friday with heats, preliminary features and the "A" feature which will set the first three rows for Sunday's main event, where 27 cars will start three-wide hoping to come home first. Grandstands open at 4:30 p.m. with adult admission $15, youth 6-12 are $5 and kids under six are free. Pits open at 3 p.m. and pit passes are $35.
Saturday sees another round of qualifying with heats and features to decide rows 4-6 for Sunday. Front gates open at 4:30 p.m. Adult admission for adults is $18, youth 6-12 are $5 and kids under six are free. Pits open at 3 p.m. and pit passes are $35. Following the "A" feature, the Precise Racing Products Race of Champions will be run.
Sunday is the culmination of the weekend. Preliminary feature races will decide who will fill the last three rows for the Big Dance. After the lineup is set for the main event, 27 of the best IMCA RaceSaver drivers in the world will take off in a truly spectacular three-wide start.
Thirty laps later, one of them will stand atop the podium and receive their championship belt. Front gates open at 4:30 p.m. Adult admission is $20, youth 6-12 are $5 and kids under six are free.
There have been some changes this year. All heats on Friday and Saturday are sponsored by RaceSaver Enterprises and the winner of each heat will receive an additional $100 from RaceSaver.
Every driver who races all three days will receive a minimum of $450 for the weekend and there are sponsors providing more cash who will add even more to that amount. Sunday's first non-qualifier in the "B" feature will take home $1,000 and the minimum to start the race is $500.
Finally, the prize money for the main event on Sunday has risen to $1,500 to start with the winner taking home $3,000. Add in lots of contingency prizes and other goodies and you can see that it will be well worth your time to haul to Eagle, Neb., and take part in one whale of a show.
If you're a driver, don't miss out on the early entry fee of just $15. For the fans, you can purchase a 4-day front gate pass for only $45. There are a limited amount of camping spots with electrical hook-ups available. If you want one while they last, you must reserve it prior to Aug. 24.