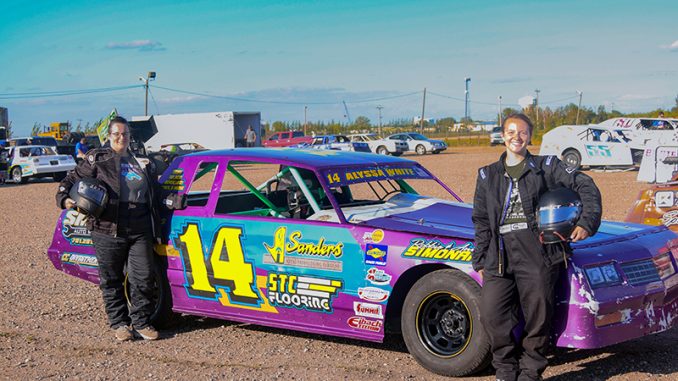 WEST FARGO, N.D. – After Alyssa White enlisted in the National Guard, the question came up as to who would take over behind the wheel of her IMCA Sunoco Hobby Stock.
The answer became the family member who already has a track championship to their credit: Her mother, Gina.
"My dad brought it up and I thought it would be so cool," said Alyssa, now in her fifth season in the division. "I put something about it on Facebook and my friends agreed she should race."
Husband and wife, co-crew chiefs and competitors Jim and Gina raced street stocks in Michigan's Upper Peninsula, at Adventure Mountain Raceway, where Gina won the 2007 track title.
The family later relocated to West Fargo, N.D. Alyssa had been pestering her dad about getting her into a car long before she started racing a Hobby Stock at 14. Notably, her first time on the track was in a race, as test and tunes leading up to her debut event had all been canceled.
"I don't remember where I finished but I didn't crash and I wasn't last," said White, who became a regular at Red River Valley Speedway and at Arlington Raceway. "I've really enjoyed doing what I love. I definitely like the affordability of the Hobby Stock and the relationships I've built with other racers in this class and other classes as well."
After making steady improvement in Lady Eagle standings and winning three features in 2019, White graduated from West Fargo High School last spring and enlisted in January.
Her grandfather and an uncle served in the Army so White already has a connection to military service. After basic training at Fort Leonard Wood in Missouri, she'll go to Fort Sam Houston in San Antonio, Texas, for advanced individual training.
"I've been working toward this for a couple years," said White, who will then attend nursing school at North Dakota State University and maybe move up to an IMCA Sunoco Stock Car. "I'm excited about the opportunity to serve. It's something I've wanted to do."
She's got some advice for her mom before Gina takes over her ride.
"I think once she gets back in, she'll do fine," said White. "She always tells me to go out and run my race. I'll tell her the same thing."
That was just the advice Gina expected.
"I love the adrenaline and I love watching all types of racing. I've especially liked watching Alyssa," she said. "I'll probably hear her in the back of my mind telling me to race my race. I'm going to have fun and see how it goes."
While she's focused on having fun, she'd also like to earn a career-first feature win.
"I've won a track championship but I've never won a feature," Gina said. "That would be a goal. I'm going to give it a whirl."