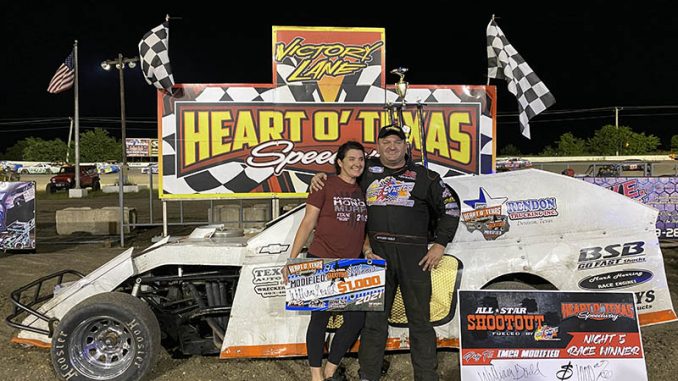 WACO, Texas (May 30) – William Gould and organizations assisting veterans in the Waco area were big winners on the night before Memorial Day at Heart O' Texas Speedway.
Gould raced from 12th to win the All Star Shootout fueled by Fast Shafts IMCA Modified main event, earning $1,000, plus $500 bonuses for his second All Star win of the week and $250 for perfect attendance throughout the five-race Shootout.
And local veterans' groups will be getting $2,660, the amount raised in the evening's Modified drivers' auction. Gould gaveled at $400 and, appreciating the buyer's confidence, told him to keep what would have been his share, half those proceeds.
Interviewed post-race on IMCA.TV, the buyer announced his plans to donate the full amount to local organizations dedicated to assisting veterans.
Jimmy Reeves started on the pole and led past midway of the 25-lapper, finally giving way to Fred Wojtek, the Saturday winner at Kennedale Speedway Park. Gould, who had won the previous night at Boyd, was up to third by lap 11 and passed Reeves for second on the 15th circuit.
"I wasn't waiting for anything. I started 12th and there were 11 fast guys in front of me," he said. "The race track was super fast from top to bottom and when I caught up with Fred I didn't know he was the leader. I passed him three times, once on the outside and twice on the inside, but couldn't stay in front of him. The final time I drove by him on the outside."
That final time came with three laps to go. The main event ran caution-free and Gould ran in heavy lapped traffic to win ahead of Wojtek and Shootout champion Jacob Pirkle. Chad Melton and Reeves rounded out the top five.
"I was going as hard and as fast as I could from green flag to checkered flag," said Gould, not for positive where he was in the running order until coming to the checkers. "I did all I could. It was all pretty cool."
Also pretty cool: Gould asked the announcer at HO'T to give his trophy away and the recipient, celebrating his birthday and chosen at random, was the son of the man who'd bought Gould in the drivers' auction and donated his winnings.
Matthew Day wrapped up the Smiley's Racing Products Southern SportMod Shootout title with his third $750 feature win of the week, leading all but the first lap. G.W. Egbert IV started 17th and beat Robert Elliott in the race for third.
"I thought we'd be lucky to get one or two wins out of it," said Day, who makes three or four visits a year to Waco. "To win tonight means our team is at the top right now and we're getting better and better every day."
Jeff Shepperd was fourth and Dan Day fifth.
And Shelby Williams earned $750 for his B & B Chassis All-Star qualifying win in the IMCA Sunoco Stock Car main event. Driving 'Old Faithful,' a 2006 homebuilt and multi-time repair car, he took over the front spot following a lap seven restart and led Stock Car Shootout champion Tommy Fain and 12th starting Jason Batt across the stripe.
"I didn't want to see those cautions. I was trying to get in rhythm," Williams said. "I went to the top to get the lead, went down to the middle to protect it and everything worked out pretty good."
"I've been to Waco five or six times before and never finished very good," added Williams, who scored a $200 bonus for his fourth heat race win of the week. "I ended up doing good at a track I hadn't done good at before."
Completing the top five were Markiss Harcrow and the 23rd starting Raymond McSpadden.