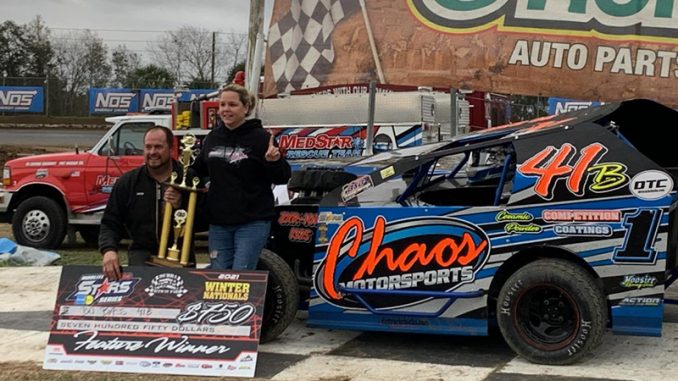 OCALA, Fla. (Feb. 5) – Bo Bass raced his way into the IMCA history book Friday night.
After running second most of the way, the Eustis, Fla., driver found his way to the front late in the contest to win the first-ever IMCA Stars Mod Lite main event, held at Bubba Raceway Park.
He'd started sixth, took over up front when leader Alex Cline exited with mechanical issues in the final circuits and then outran Blake Wilson and Kaden Cochran to the history-making checkers, plus a $250 bonus from national events sponsor Yoshimura.
Hard charger Cody Yaw, a rookie of the year last season, raced from 18th starting to fourth. Darrick Hubbard Jr. was fifth.
The Chaos Contender Chassis builder was just about as happy with his cars' on-track showing as he was with the win.
"Our cars dominated this weekend," said Bass, who saw two of his cars start on the front row. "I didn't think I'd get the win. This was a good way to start the year."
Starting his sixth season racing on dirt after getting his start on asphalt, Bass will next be headed to Sugar Bowl shows at Hendry County Motorsports Park in Clewiston. A $300 to win race of champions on Thursday and $750 to win feature on Friday lead up to the $5,000 to win show on Saturday.
Both Friday and Saturday programs will be broadcast by IMCA.TV. Yoshimura bonuses will be paid to top three finishers on Saturday.
The Feb. 6 show at Ocala was rained out.
Feature results – 1. Bo Bass; 2. Blake Wilson; 3. Kaden Cochran; 4. Cody Yaw; 5. Darrick Hubbard Jr.; 6. Brian Teeters; 7. Randy Bryan; 8. Dylan Dunn; 9. Alex Cline; 10. Morghan Johnson; 11. Jason Masengarb; 12. Darren Bass; 13. Kyle Demo; 14. Mike Kennedy; 15. Tanner McLoughlin; 16. Cody Sisson; 17. Larry Hubbard Jr.; 18. Jeremy Wilson; 19. Jeff Asher; 20. Chris Robinson; 21. John Joiner; 22. Codey Benoit; 23. Justin Williams; 24. Justin Kinderknecht.