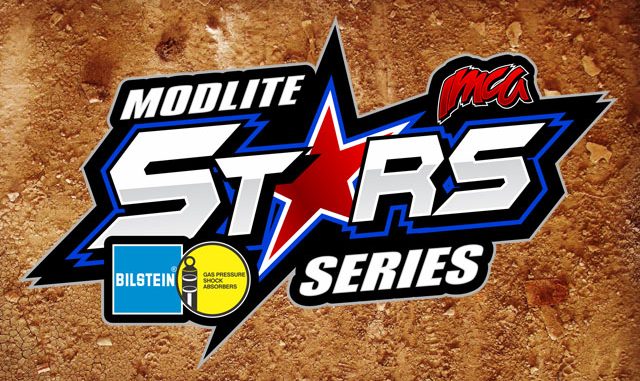 DES MOINES, Iowa – Modified Lite STARS Series, a division of IMCA, is pleased to announce the signing of its title sponsor for the 2021 season. ThyssenKrupp Bilstein of America has signed with the STARS for its 10th year and has agreed to be the title and presenting sponsor for the Modi­fied Lite STARS program for the 2021 season.
With Bilstein Shocks support, the Bilstein Modified Lite STARS Series and its innovative concept will draw together top regional racers to compete for enhanced purses and national point fund for the 2021 season.
"We are very pleased to announce the continued alliance with Bilstein, which will provide us with the financial backing to offer our drivers a $5,000 national point fund program for the 2021 sea­son," stated STARS President of Competition and Racing Operations Jimmy May.
The Mod Lite national champion will receive a $1,000 share of the point fund as well as a trophy, ring and jacket, helmet and driver's suit like those awarded to national champions in the other eight IMCA divisions.
"For the 2021 season, drivers will now be offered a national point fund under the IMCA point struc­ture," May said, "and with IMCA support we are now able to provide our drivers with a $100,000 excess medical accident insurance policy for all STARS/IMCA-sanctioned events."
The excess medical policy that accompanies IMCA membership reimburses IMCA members rac­ing in sanctioned events for covered excess medical expenses, including those incurred during travel to and from IMCA sanctioned events.
'Excess' means the accident medical benefit is payable after benefits under any other health plan have been considered first. Also, there is a $5,000 policy deductible, usually track insurance, that needs to be satisfied before any payments can be made. Coverage is subject to policy terms, conditions and exclusions.
The member's policy purchased from Jones Birdsong includes $5,000 accidental death, dismember­ment and paralysis coverage as well.
License fee for the newly-sanctioned Mod Lites is $60 and drivers can purchase their 2021 member­ship using the forms pulldown on the IMCA website.
A long-time IMCA sponsor, Bilstein is based in Poway, Calif., and has increased its involvement in the Mod Lite market while defining its footprint in the industry. The name ThyssenKrupp Bilstein is internationally synonymous with innovation and high-tech engineering in the shock absorber market
Bilstein has for many decades been closely associated with the most advanced technology in the field of suspension design, driving comfort and safety. In order to expand this position in the fu­ture, Bilstein became a division of ThyssenKrupp Technologies AG in 1988 and a wholly-owned subsidiary in 2005. The partnership and co-operation within the group will enable the company to continue to inspire with innovations in the traditional Bilstein way.
Bilstein Modified Lite STARS Series also enjoys the support of Hoosier Tire, Rod End Supply, Aero Race Wheels, Yoshimura, BATZ Warehouse, Lawless Motorsports, Peak Decals, Crutch­field Racing Engines, Jokers Chassis, Sidewinder Chassis, Eliminator Race Cars, Predator Race Cars, Edge Racing Chassis, Velocity Race Cars, Chaos Motorsports, Evolution Chassis, Pro Race Cars and NXS Motorsports.
E-mail can be sent to the Mod Lite STARS Series at modlitestars@gmail.com and snail mail to 3530 Northeast 46th Avenue, Des Moines, IA 50317, (515) 205-1258. The Mod Lite STARS Rac­ing Series website is www.modlitestars.com. Like our Facebook page at www.facebook.com/Modified-Lite-STARS-Series.