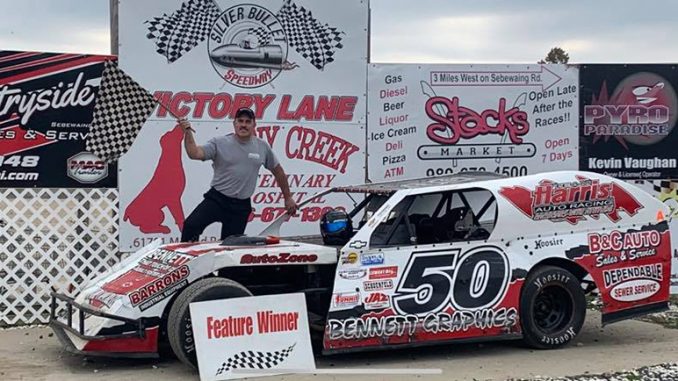 CARO, Mich. – Chad Bennett has added a new title on his already extensive racing resume: Rookie of the Year in IMCA's Eastern Region for Modifieds.
Bennett won five of 24 outings in his first IMCA season, not making his first start until mid-June, and finishing third in the national rookie and Tri-City Motor Speedway point races and fourth at Silver Bullet Speedway.
"We struggled early, then stumbled across a simple little mistake we were making with the car, got it corrected and started winning. We had a blast this season," Bennett said. "The people I raced with try to kick your ass when you're on the track but we still have a camaraderie that wasn't there when I was racing on pavement."
"This is the most technical racing I've ever done," he continued, "and it's the most family oriented and most fun I've ever been part of."
From Caro, Mich., Bennett started his racing career on the drag strip in the late 1980s. He moved over to oval tracks in 1993 and won his first track championship in the pro stock class at Owendale the following year.
Bennett racked up three more track titles on pavement before two crashes he described as "horrific" convinced him to find a new role in the sport. An auto repair and builder by profession, he crewed for sons Chad Jr. and Tyler during their successful go-kart careers, built mini sprints and then won a cage car crown before helping other racers, among them friend Dave Jacot and his sons, with their race programs.
"Another friend, Kevin Bess asked me to come to Tri-City, I got the itch, cut up an old car, made it into a pro stock and started winning," Bennett said. "Last year around November we bought a car from Kyle Brown and brought it back to Michigan."
His first IMCA Modified win came at Tri-City on July 17. Kidney stones couldn't keep him out of victory lane at Auburn the following month and he topped both the Fast Shafts All-Star Invitational ballot qualifier and the pro late model feature on the final night at Silver Bullet.
"Since I've been back racing, this has been the time of my life," said Bennett, who will pick up a new Harris this month.
Keeping with a family-oriented approach to racing, his mother Nancy cooks the legendary spreads served out of Bennett's trailer on race night.
Starts-24 Wins-5 Additional Top Fives-11
His Crew: Son Austin, Kevin Bess, Jared Bess, Joe Barrons, Matthew and Steven Jacot, and Larry and Lisa Tomaszewski.
His Sponsors: B & C Auto, Bennett Graphics, That Touch of Class Adult Foster Care, Barrons' Industrial Supply, AutoZone and 1 Stop Race Shop, all of Caro; WJH Concrete of Mayville; and Dependable Sewer Service of Bay City.