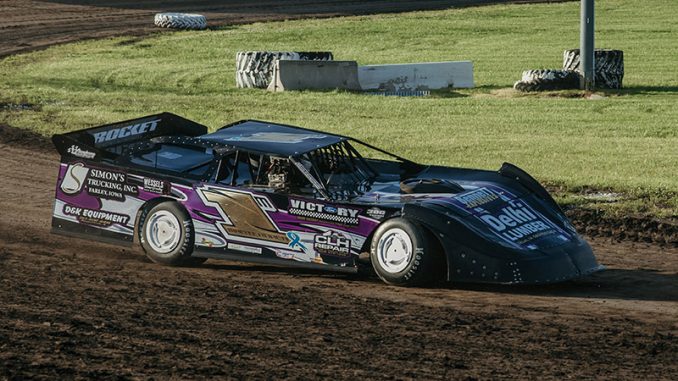 DYERSVILLE, Iowa – Mitch Manternach had winning the IMCA Sunoco Late Model national rookie of the year award in mind from the time he unloaded his newly purchased car in January.
After 25 starts at seven different tracks and five top-five finishes, the Dyersville, Iowa driver was thinking about where to display the trophy that came with those honors.
"We had to adjust our schedule because of Covid but really started coming on about mid-season," said Manternach, one point better than Jacob Waterman in the race for the top rookie prize and sixth in point standings at both Dubuque County Fairgrounds Speedway and 300 Raceway.
"While there were a couple nights we came close to winning but I couldn't get the job done, I was very happy with the way things worked out," he continued, "With the caliber of drivers we ran with, we were very happy to be as competitive as we were."
Most of his pre-Late Model seat time had come in a Karl Kustoms Northern SportMod.
"We had a deal pop up to get a car from Nick Marolf and the rest is history," explained Manter­nach, who wheeled a 2009 Rocket. "It's an old car but it kept right up with the new ones."
He ventured to Independence Motor Speedway for his best finish of the season, running second in the Aug. 1 Iowa Donor Night main event.
"You always want to make it to post-race tech and we were able to do that. Hopefully we will be able to crack out a couple wins next year," said Manternach, planning to race weekly at Dubuque and Farley again in 2021 while racing at other venues as often as possible. "I like racing at differ­ent tracks and against different drivers. I think it makes you a better driver."
Another event postponed and rescheduled this summer was his wedding. Manternach and wife Michelle exchanged vows on July 3.
Starts-25 Wins-0 Top Fives-5
His Crew: Father Todd, wife Michelle and Collin Kramer.
His Sponsors: Victory Ford, Michelle Lee Imagery and Wessel's Stump Grinding, all of Dyers­ville; Simon's Trucking of Farley; D & K Equipment, DJ Repair and Towing and Bennett Explo­sives, all of Manchester; CLH Repair of Cascade; and B-Ham Signs and Designs of Dixon, Ill.