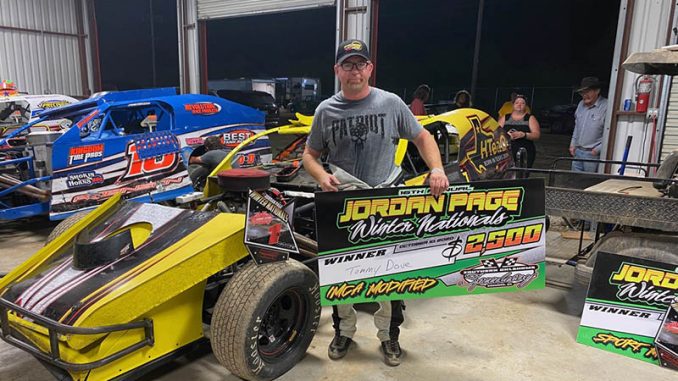 ARDMORE, Okla. (Oct. 10) – Going into the Jordan Page Winter Nationals weekend at Southern Oklahoma Speedway, Tommy Dove was hoping to qualify for the IMCA Modified main event. 
Once that goal was accomplished, it took just a handful of laps before the Ardmore driver knew he could win it.
Dove, making just his fifth start in the division in a car recently purchased from Tyler Stevens, raced from seventh starting to win the 25-lapper, passing William Gould on his way to the front and holding off another heavy hitter in Josh McGaha to stay there.
The checkers were good for $2,500 and a Fast Shafts All-Star Invitational ballot berth.
"We've been running this event every year and every year I said I wanted to win it so bad," Dove said. "First I was shooting to be in the 'A' main, then if I was in the top 10 I'd be happy. Five or six laps in I knew I was a contender."
Dove had started the season in a Smiley's Racing Products Southern SportMod and has quickly found an on-track home in the Modified. He escaped unscathed after getting sandwiched be­tween two other cars, took the lead with eight laps left and pulled away from McGaha as the race wound down.
"Passing William Gould was kind of my gauge," Dove said. "If you can pass him, you must be doing pretty good."
McGaha started 19th and finished second. Dustin Robinson, Wesley Veal and the 20th starting Chad Melton completed the top five.
Also winning Jordan Page Winter Nationals features were Dean Abbey in the Southern SportMods and Tommy Fain in the IMCA Sunoco Stock Cars.
Abbey had collected the Southern Oklahoma Speedway track title on the way to winning the na­tional championship this season. After starting outside the front row and leading all 25 laps, he earned $1,500 for his latest Ardmore victory.
"I was running the bottom when an early caution came out, changed my line on the restart and then had to outrun Justin Baird," Abbey said. "We had a pretty good race. They ran me hard all the way. I had to pick up the pace and not make any mistakes."
He was a couple car lengths ahead of Baird at the finish. Kale Westover, Shelby Williams and Dan Day were next across the stripe.
"This is one of my favorite tracks to race at," said Abbey. "It's been a good year for us there."
Also the winner of the March Stampede at Ardmore, Fain topped both qualifying heats on Friday, then started from the pole and led start to finish of the 25-lap Stock Car headliner on Saturday.
"We usually race there two or three times a year and couldn't have asked for a better weekend," he said after the $1,000 checkers. "The car was flawless and the track was racy."
Williams, Todd Decker, 12th starting Ray Allen Hoedebeck and 14th starting Cary White were se­cond through fifth, respectively.