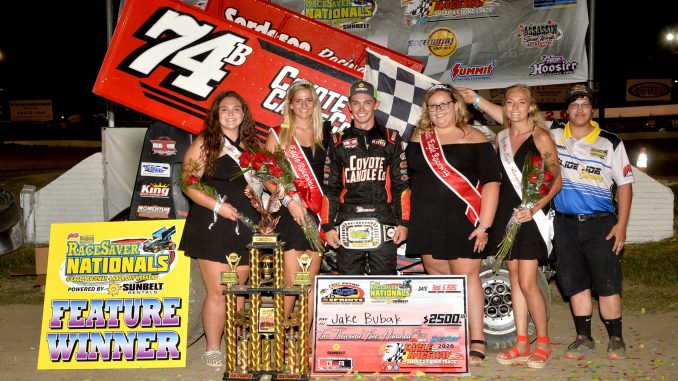 By Greg Soukup
EAGLE, Neb. (Sept. 6) – A driver who's been a contender became a champion Sunday night at Eagle Raceway.
Jake Bubak led the last six laps in winning the eighth annual RaceSaver Nationals at America's Home Track, after finishing third, third and fourth the last three years.
Along with the $2,500 top prize, Bubak repeated in taking the $1,000 to win Jake Ita Memorial Race of Champions on Saturday night. Nearly 90 teams vied at the biggest IMCA RaceSaver Sprint Car event of the season.
Bubak's win came from outside the second row of the three-wide start.
"I didn't mind starting in the second row, I just didn't want to start in the middle," he said. "But as I told another racer 'It's the same for everybody' so we just go along with it. We moved up fairly quickly, and towards the end it was kind of attrition. Joey (Danley) ended up bouncing and then spinning out and then Ethan (Barrow) breaking that wheel center was really unfortunate."
"We had a great weekend for sure. I'm just happy that we were able to capitalize on the oppor­tunity and win the race," he continued. "We enjoy coming to Eagle Raceway. It's a track that I feel we do fairly decent at every time. Even if we have to start far back, we always find our way to the front. It's a fun track."
Trevor Serbus, Dustin Stroup, Trevor Grossenbacher and Stuart Snyder rounded out the top five.
Barrow had led lap one followed by Danley, Serbus and Bubak in the 74B. Tyler Drueke got past Bubak and the field entered lapped traffic on the seventh circuit.
After a restart, Barrow again caught up to lapped traffic on lap 13 before Danley spun two laps later. Drueke dropped back on the restart to move Bubak to third and Grossenbacher to fourth.
Barrow's right rear tire came off after the center of the wheel broke on lap 18, sending him into the wall and Serbus inherited the lead. Cody Ledger jumped the cushion in 1 & 2 on the restart, climbed and then riding along the wall before rolling over.
Chad Wilson took over fourth but gave the spot back to Stroup the next time around. Bubak passed Serbus with six circuits remaining and led to the checkers.
Feature results – 1. Jake Bubak Lubbock, Texas; 2. Trevor Serbus, Olivia, Minn.; 3. Dustin Stroup, Fremont, Ohio; 4. Trevor Grossenbacher, Panama; 5. Stuart Snyder, Lincoln; 6. Casey Burkham, Combine, Texas; 7. Zach Blurton, Quinter, Kan.; 8. Jason Martin, Crete; 9. Chad Wil­son, North Richland Hills, Texas; 10. Toby Chapman, Panama; 11. Claud Estes III, Godley, Texas; 12. Bradley Sterrett, Bloomington, Ind.; 13. Jason Danley, Lincoln; 14. Dusty Ballenger, Harrisburg, S.D.; 15. Joey Danley, Lincoln; 16. Chad Koch, Murdock, Neb.; 17. Adam Gullion, Lincoln; 18. Jay Russell, Wathena, Kan.; 19. Cody Ledger, Omaha; 20. Mark Pace, Lincoln; 21. John Ricketts, Burleson, Texas; 22. Neil Nickolite, Bellwood; 23. Ethan Barrow, Bloomington, Ind.; 24. Ryan King, Bennet; 25. Tyler Drueke, Eagle; 26. Clint Benson, Papillion; 27. Doug Lovegrove Waverly.
Jake Ita Memorial Race of Champions results – 1. Bubak; 2. Martin; 3. Benson; 4. Jason Dan­ley; 5. Dusty Ballenger, Harrisburg, S.D.; 6. Justin Clark. Hamersville, Ohio; 7. Jacob Harris Vi­dor, Texas; 8. Grossenbacher; 9. Drueke; 10. Tyler Harris, Vidor, Texas; 11. Wilson; 12. Daren Bolac, Moyock, N.C.; 13. Blurton; 14. Estes; 15. Chase Brewer, Waxahachie, Texas; 16. Mike Moore, Des Moines, Iowa; 18. Ricketts; 19. Sterrett Bloomington.