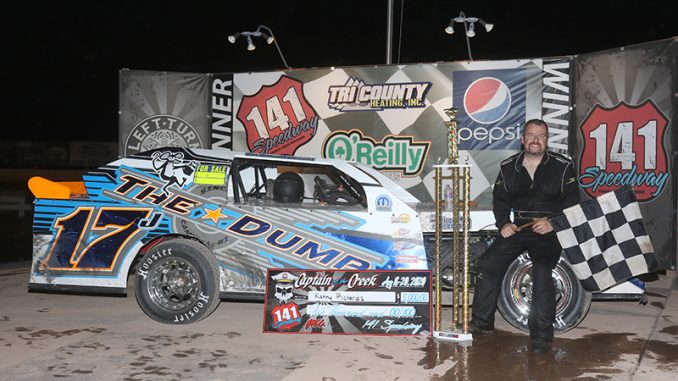 FRANCIS CREEK, Wis. (Aug. 20) – The win was great. 
His daughter's reaction to finding the presentation check propped up against her bedroom door the next morning was even better.
Kenny Richards started 13th, took the lead following back-to-back restarts just past midway and then outran a field of Karl Kustoms Northern SportMod heavy hitters in taking the $5,000 Captain of the Creek checkers Thursday at 141 Speedway.
The big win came in a Jack Jones Dump Bar and Grill ride Richards hadn't seen before qualifying started the night before. Jones and brother Jerry, the Two Old Guys Race Team, adjusted the pedals and steering wheel and Richards took it from there.
"I had my fingers crossed we would even make it in. Then I hoped for a top 10. I wanted the bottom two feet (of the track) and we hit that like 49 of the 50 laps," he said. "I knew when we were in the top 10 that we had a shot at the top five."
Colby Fett led the first 21 laps, then swapped the front spot with Jayden Schmidt following a lap 22 restart.
Richards made his way to the front five laps later. Schmidt gave way in pursuit to Doug Smith, who ultimately chased Richards to the checkers two-plus seconds off the pace.
Johnathon Logue, Schmidt and Elijah Koenig completed the top five. Bruce Belland started 15th and finished sixth.
"The stars were shining just right. I never in a million years thought we'd win," admitted Richards, who'd won the July 11 IMCA Sunoco Stock Car feature at Francis Creek. "It was short notice that I'd be driving and the only thing that could have made it more special would be to have my wife and daughters there."
Daughter Keslie, who drives a Jones-sponsored junior sprint, shared her father's excitement Friday morning.
"She found the check leaning on her door and I woke up to hear her shouting 'Daddy's Captain of the Creek!' That's the thing I race for. I'll cherish this for a long time," Richards said. "This is by far one of the biggest wins in my career. I'm on cloud nine."
Feature results – 1. Kenny Richards; 2. Doug Smith; 3. Johnathon Logue; 4. Jayden Schmidt; 5. Elijah Koenig; 6. Bruce Belland; 7. Randy LeMieux Jr. 8. Ryan Schmidt; 9. Geoff Jeche; 10. Jake Carpenter; 11. Timothy Warner; 12. Gabe Zellner; 13. Derek Fehling; 14. Jason Zdroik; 15. Tyler Soppe; 16. Josh Appel; 17. Brady Harshberger; 18. Adam Bohlman; 19. Chris Budzban; 20. Colby Fett; 21. Jacob Zellner; 22. Cody Thompson; 23. Craig Dorner; 24. Tyler Sobiesczyk.