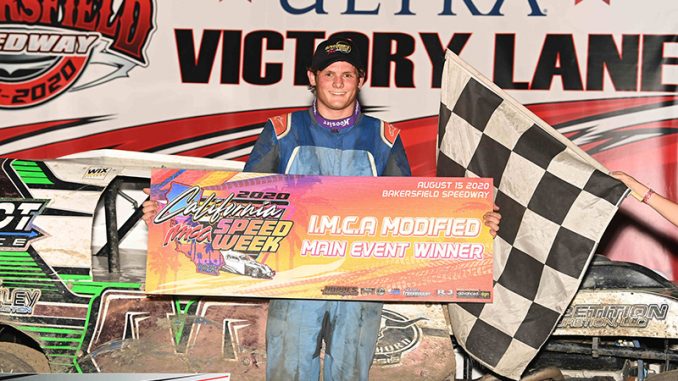 By Stephanie Deatherage
BAKERSFIELD, Calif. (Aug. 15) – Shane DeVolder won the battle, Bobby Hogge IV won the war and Garrett Jernagan won both on the final night of California IMCA Speedweek presented by Hoppes Motorsports.
DeVolder won the IMCA Modified feature at Bakersfield Speedway, earning $1,000 and a Fast Shafts All-Star Invitational ballot berth, while runner-up Hogge took the overall Modified tour title.
Jernagan clinched the Karl Kustoms Northern SportMod crown with his fifth $750 victory of the week.
DeVolder regained the lead from Alyssa Smith before a long green flag run got him into lapped traffic. Three cautions slowed the final 10 circuits but neither Hogge or Ryan Daves had anything for the leader and finished in that order behind him.
Jim Pettit II and Jerry Flippo completed the top five.
Brent Curran set the tone early in a SportMod feature slowed by yellows, nailing each restart and checked out on the rest of the pack. Jernagan finally navigated his way into the lead following a lap 11 restart, holding off all challengers as the race ended green, white, checkered.
Curran ended the night in second with Jason Bannister grabbing third.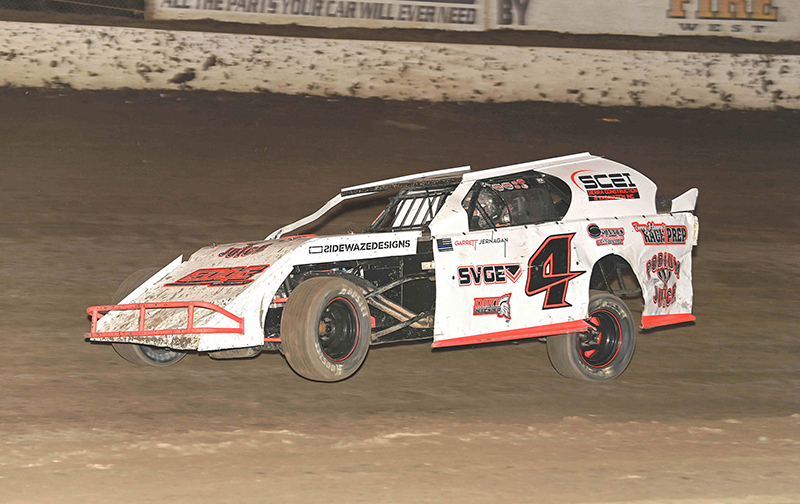 Almost perfect, Garrett Jernagan raced to his fifth Karl Kustoms Northern SportMod win in six California IMCA Speedweek starts at Bakersfield Speedway.
Fifty-three IMCA Modifieds were complemented by 30 Northern SportMods in the finale.
Feature Results
Modifieds – 1. Shane DeVolder; 2. Bobby Hogge; 3. Ryan Daves; 4. Jim Pettit II; 5. Jerry Flippo; 6. Cody Burke; 7. Alyssa Smith; 8. Kellen Chadwick; 9. Clint Reichenbach; 10. Troy Foulger; 11. Ethan Dotson; 12. Tom Smith; 13. Gary Dutton; 14. Trevor Fitz-Gibbon; 15. Troy Morris III; 16. Kyle Heckman; 17. Gavyn Manning; 18. Jake Mayden; 19. Tim Yaeger; 20. Paul Stone.
SportMods – 1. Garrett Jernagan; 2. Brent Curran; 3. Jason Bannister; 4. Brock Crawford; 5. Tanner Thomas; 6. Dylan Potter; 7. James Cecil; 8. Jon McKinley; 9. Matt Mayo; 10. Chase Thomas; 11. Nathan Rolfe; 12. Chuck Weir; 13. Brandon Jennings; 14. Jarrod Mounce; 15. Austin Manzella; 16. Nick Spainhoward; 17. Todd Gomez; 18. Brylon Holder; 19. Markus Frazier; 20. Brian Baker.