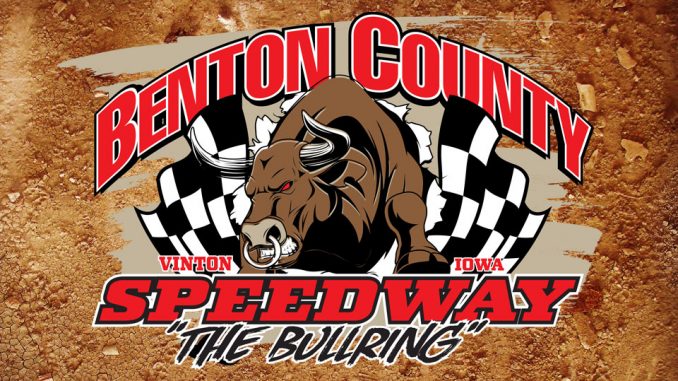 VINTON, Iowa – The track where Corey Dripps started his racing career nearly 30 years ago is the same track he'll promote in 2020. 
Dripps and his father Rick, partners in Specialty Racing Promotions Inc., will be in charge for their first full season at Benton County Speedway.
They'd promoted a single event, the season-ending Arnold Motor Supply Dirt Knights Tour show, at Vinton, the traditional home track of the IMCA Modified division, last September.
"We went home that night excited about a lot of things. That race gave us a great head start going into this year and things couldn't have worked out better for us," said Dripps, a long-time IMCA Modified driver. "Benton County Speedway is the first track I ever watched a race at. It's the first track I ever raced at (in a pro stock, in 1992) and it's the first track where I won a race. It's always been special to me."
Nicknamed The Bullring, the quarter-mile dirt oval hosts the April 2 Frostbuster special before the first regular Sunday night show on April 19.
"I've done a lot of different racing and IMCA has the best rules package for competitiveness and cost effectiveness," Dripps said. "Beyond a doubt, IMCA is the best sanction for weekly racing."
In addition to the Modifieds, IMCA Sunoco Late Models, IMCA Sunoco Stock Cars, IMCA Sunoco Hobby Stocks and Karl Kustoms Northern SportMods run weekly through IMCA Speedway Motors Weekly Racing season championship night on Aug. 23.
Special events for each IMCA division are scheduled throughout the season. The Dirt Knights Tour returns on Memorial Day, Kids With Cancer Night on May 31 and the Urbana 5 Memorial on July 2.
"This is an action track. We want to give drivers the best surface to race on and we've invested in the best equipment to do that," said Dripps. "We built a new backstretch road, we're buying a new PA system for the pits and installing a new scoring loop system."
"We've been talking with a lot of drivers," he continued. "We're excited about the season and the specials we have coming up."
Site of the first-ever IMCA Modified event in 1979, Benton County Speedway has now sanctioned the Modifieds and Stock Cars since 2001, Hobby Stocks since 2002, Northern SportMods since 2005 and Late Models since 2017.