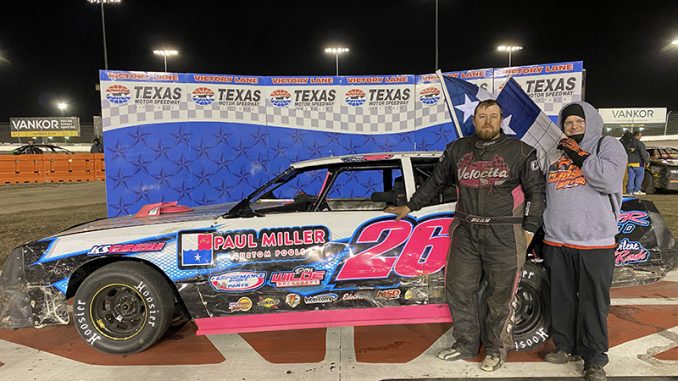 FORT WORTH, Texas (Feb. 18) – The race was for second Tuesday night as Dean Abbey checked out on everybody in winning the Sniper Speed Lone Star Tour Dirty 30 qualifying feature for IMCA Sunoco Stock Cars at Texas Motor Speedway.
Abbey started from the pole and left a multi-car tussle battling in his wake.
Chad Schroeder, Brian Blessington, Ryan Powers, Derek Green, Elijah Zevenbergen, Kyle Falck, Curt Lund, Buck Schafroth and Hesston Shaw finished in that order behind Abbey and join him on the main event grid.
They'll decide who starts where on the front five rows during the Dirt Defender Grudge draw while the rest of the 22-field for the $3,000 to win headliner is to be determined. Seventy-seven Stock Cars vied on opening night at Fort Worth.
After a flat tire took Jesse Sobbing out of the running, Clay Money became the driver nobody could catch in the IMCA Modified qualifier.
The quick Kansas driver pulled away before and following a late caution. Fellow top five finishers moving on to the $2,000 to win Wednesday feature were Anthony Roth, Jason Wolla, Drew Armstrong and Shane DeMey.
Saturday winners Westin Abbey and Sobbing remain in contention for $10,000 bonuses but both will first have to race their way into respective feature fields first Wednesday evening.
Gregory Muirhead started on the pole and was G-O-N-E in winning the Smiley's Racing Southern SportMod feature at TMS. Rowdy Day, Kevin Manning, Paul White and Dean Abbey chased Muirhead across the strip and into Wednesday's $1,000 to win main event.
Feature Results
Stock Cars – 1. Dean Abbey, Roanoke; 2. Chad Schroeder, Belle Plaine; 3. Brian Blessington, Breda; 4. Ryan Powers, Kennedale; 5. Derek Green, Granada, Minn.; 6. Elijah Zevenbergen, Ocheyedan, Iowa; 7. Kyle Falck, Decorah; 8. Curt Lund, Redwood Falls, Minn.; 9. Buck Schafroth, Orient, Iowa; 10. Hesston Shaw, Hennessey, Okla.; 11. Eric Rempel, Palmyra, Neb.; 12. Justin Graves, Odessa; 13. Abe Huls, Carthage, Ill.; 14. Blake Clark, Joshua; 15. Colby Deming, Hobbs, N.M.; 16. Troy Burkhart, Hays, Kan.; 17. Gary Williams, Bonham; 18. Austin Gregg, Fort Worth; 19. Westin Abbey, Comanche; 20. Leslie Gill, Odessa; 21. Dan Mackenthun, Hamburg, Minn.; 22. Todd VanEaton, Orient, Iowa; 23. Angel Munoz, Lamar, Colo.; 24. Jason Rogers, Selden, Kan.; 25. Dustin White, Lamesa.
Modifieds – 1. Clay Money, Penokee, Kan.; 2. Anthony Roth, Columbus, Neb.; 3. Jason Wolla, Ray, N.D.; 4. Drew Armstrong, Alexander, Ark.; 5. Shane DeMey, Denison, Iowa; 6. John Gober, Poolville; 7. Josh McGaha, Abilene; 8. Mark Carrell, Redmond, Ore.; 9. Jim Thies, Mapleton, Iowa; 10. Chad Melton, Mineral Wells; 11. Jon White Jr., Red Oak; 12. Jim Cole, Sioux City, Iowa; 13. Leslie Gill, Odessa; 14. Dustin Robinson, Post; 15. William Gould, Calera, Okla.; 16. Jesse Sobbing, Malvern, Iowa; 17. Nick Roberts, Des Moines, Iowa; 18. Jeffrey Abbey, Comanche; 19. Eric Tomlinson, Robinson; 20. Mike Petersilie, Hoisington, Kan.; 21. Brint Hartwick, Quitman, Ark.; 22. Ethan Braaksma, Newton, Iowa; 23. Mark Adams, Fort Worth.
Southern SportMods – 1. Gregory Muirhead, Mabank; 2. Rowdy Day, Greenville; 3. Kevin Manning, Kaufman; 4. Paul White, Waco; 5. Dean Abbey, Roanoke; 6. Steven Nabors, Rockwall; 7. Justin Nabors, Kemp; 8. Brandon Watson, Denison; 9. James McCreery, Midlothian; 10. Kevin Ward, Abilene; 11. Christopher Stewart, Tatum, N.M.; 12. Brandon Blake, Odessa; 13. Mark Patterson, Merkel.