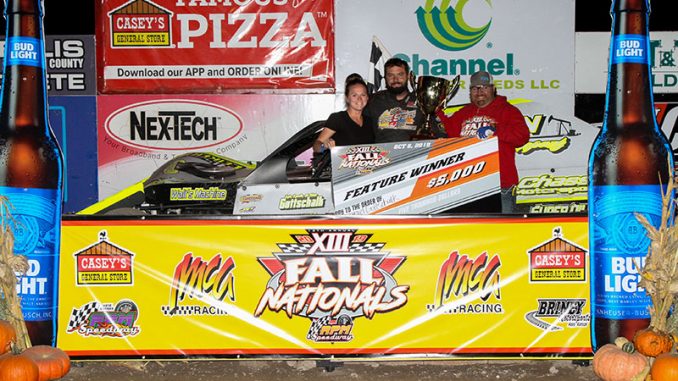 HAYS, Kan. (Oct. 5) – After finding a little line, Daniel Gottschalk took the big check at RPM Speedway's Fall Nationals.
A caution late in the 40-lapper helped open the door as Gottschalk topped the $5,000 Saturday night main event.
"I didn't know if I had a chance midway through but I found a little line and made it work," said Gottschalk, who passed Tanner Black and Cody Laney for the Fast Shafts All-Star Invitational ballot qualifying victory. "I don't get real emotional but that was probably the most excited I've ever been after taking the checkered flag."
Once in front, he pulled away on the white flag circuit and took the win half a se­cond ahead of Black, who'd raced his way up from 14th starting.
Laney, Jeff Taylor and defending race winner Jordan Grabouski completed the top five.
"We broke last year at Fall Nationals and DNF'd," said Gottschalk, who started seventh this time around and wheeled a Slider Chassis. "This year we found some extra speed. This was our last race of the season and we're ending on a high note."
The Fall Nationals win was Gottschalk's career second. He'd also paced the Karl Kustoms Northern SportMods in 2016.
Other Saturday night winners at Hays were Mike Nichols, for the fifth time in the IMCA Sunoco Stock Cars; Cody Thompson in the Northern SportMods; Brady Bencken, for the third time in the IMCA Sunoco Hobby Stocks; and Toby Schwien in the Mach-1 Sport Compacts.
Nichols' $3,000 win came from ninth on the original grid. He made a beeline to­ward the front from the bottom groove and had the lead before halfway.
"We've been trying some new things," he said. "We threw the kitchen sink at it and everything worked."
He'd also won Fall Nationals in 2008, 2012, 2013 and 2017.
Runner-up was Troy Burkhart. Hesston Shaw, Casey Woken and Eric Rempel were scored next.
After starting on the front row, breaking and not completing a lap at each of his last two Fall Nationals, Thompson made the most of the topside in getting from row three to the front of the $2,000 to win Northern SportMod headliner.
Thompson passed defending race winner Blaine Walt for the lead.
"Every restart I concentrated on hitting my marks," he said. This is probably one of the biggest races I've won."
Walt, Shay Simoneau, Tyler Watts and Luke Stallbaumer were next across the line.
Bencken had to come out of a last-chance race, started 14th and completed his charge to the front following a restart near midway. The Fall Nationals crown was his second consecutive and third in four years.
"Winning this race back-to-back, especially after starting 14th, is awesome," he said. "With luck and people to help you, that's what it takes."
The $1,500 win came ahead of Cody Williams, Taylor Huss, Leevi Runge and Mike Kennedy.
Schwien was the $400 Mach-1 Sport Compact winner, outrunning the 13th start­ing Chris Destefono.
Bradyn Blackhart, Billt Turner and Ted Trumbo ran third through fifth, respec­tively.
Feature Results
Modifieds – 1. Daniel Gottschalk; 2. Tanner Black; 3. Cody Laney; 4. Jeff Taylor; 5. Jordan Grabouski; 6. R.C. Whitwell; 7. John Hansen; 8. Tripp Gaylord; 9. Ed­die Belec; 10. Clay Sellard; 11. Jacob Hobscheidt; 12. Marlyn Seidler; 13. Casey Arneson; 14. Justin Gregg; 15. Jared Hoefelman; 16. Jeremy Frenier; 17. Bren­don Gemmill; 18. Jimmy Reeves; 19. Steven Bowers Jr.; 20. Ethan Braaksma; 21. Kyle Rohleder; 22. Clay Money; 23. Anthony Roth; 24. Dylan Sherfick.
Stock Cars – 1. Mike Nichols; 2. Troy Burkhart; 3. Hesston Shaw; 4. Casey Woken; 5. Eric Rempel; 6. Daniel Hilsabeck; 7. Barrett Wagoner; 8. Jason Rog­ers; 9. Tyler Tipton; 10. Kyle Pfeifer; 11. Dominic Thyfault; 12. Colin Heim; 13. Mark Zorn; 14. Bryan Rigsby; 15. Mike Petersilie; 16. Michael Pepper; 17. Jer­emy Zorn; 18. Sterling Sorensen; 19. Adam Goff; 20. Tanner Portenier; 21. Tren­ton Kleweno; 22. Derrick Brown; 23. Dusty Blake; 24. Jordan Grabouski.
Northern SportMods – 1. Cody Thompson; 2. Blaine Walt; 3. Shay Simoneau; 4. Tyler Watts; 5. Luke Stallbaumer; 6. Lance Borgman; 7. Hunter Longnecker; 8. Tony Gregg; 9. Cory McGann; 10. Kelly Henderson; 11. Josh Everhart; 12. Jasen Gray; 13. Arie Schouten; 14. Bryan Bowers; 15. Patrick Donovan; 16. Lance Yox­simer; 17. Jacob Olmstead; 18. Dillon Schultz; 19. Matt Firme; 20. Monte Nordyke; 21. Adam Weber; 22. Clayton Feik; 23. Shannon Maughlin; 24. Ryan Kirchoff.
Hobby Stocks – 1. Brady Bencken; 2. Cody Williams; 3. Taylor Huss; 4. Leevi Runge; 5. Mike Kennedy; 6. Brendon Stigge; 7. Tony Slothower; 8. Josh Barn­hart; 9. Drew Barry; 10. Tanner Jones; 11. Michael Wade; 12. Brooke Russell; 13. James Hart; 14. Trevor Schmidt; 15. Brian Stich; 16. Hunter Wergin; 17. Zach Olmstead; 18. Nate DeSive; 19. Curt Kennedy; 20. Landon Runge; 21. Tathan Burkhart; 22. Tristan Grape; 23. Connor Hansen; 24. Austin Rhoades.
Sport Compacts – 1. Toby Schwien; 2. Chris Destefono; 3. Bradyn Blackhart; 4. Billy Turner; 5. Ted Trumbo; 6. Alison Bird; 7. Robert Clanton; 8. Madison Reed; 9. Brianna Maughlin; 10. Zachary Cardwell; 11. Otto Schutte; 12. Weston Groth; 13. Monte Honas; 14. Tim Bouchey.