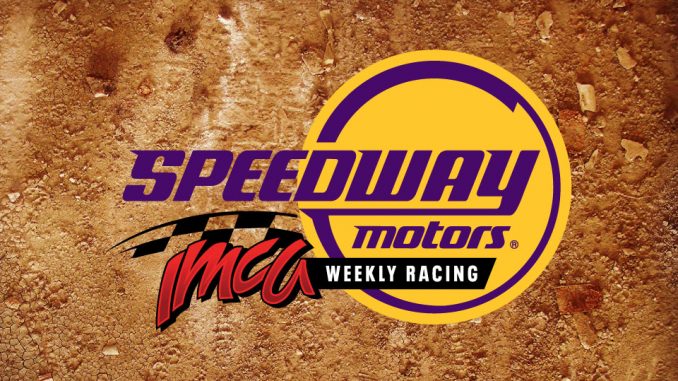 VINTON, Iowa (Oct. 8) – An IMCA race season that saw its share of first-time accomplishments will end with the crowning of six first-time national champions.
Those titles went to Kenneth Duke in the IMCA RaceSaver Sprint Cars, Jeff Ware in the IMCA Sunoco Hobby Stocks, James Hanusch in the Smiley's Racing Products South­ern SportMods and Alex Dostal in the Mach-1 Sport Compacts.
Duke, from Selinsgrove, is the first Pennsylvania driver to win an IMCA national championship in any division. He won 10 features as well as Pennsylvania Sprint Series and E3 Spark Plugs Pennsyl­vania State titles.
Columbus, Neb., pilot Ware was a 29-time feature winner and also the top driver in the Big Daddy Race Cars Northern Region, in Nebraska State points and in Boone County Raceway, Dawson County Raceway, Eagle Raceway and U.S. 30 Speedway standings.
Hanusch hails from Belton, Texas. He had five feature wins and the 281 Speedway track title to his credit this season.
Dostal collected 25 feature wins. From Glencoe, he's also the Minnesota State and Arlington Race­way, Princeton Speedway and Redwood Speedway champion.
And Matt Ryan of Davenport, Iowa, and Cory Dumpert of York, Neb., were crowned national Late Model champions following a point sea­son that ended in late July. Dumpert was also top rookie in that division.
Jordan Grabouski became the first driver to win two IMCA national championships in the same season, topping both Modified and Stock Car standings, while Tyler Soppe won his second Karl Kustoms Northern SportMod crown.
Grabouski's total of 69 feature wins – 33 in the Modified and 36 in the Stock Car – and combination of eight track championships – are both single season records.
"It's crazy how everything fell together. It was unreal, certainly not anything we set out to do at the start of the season," said Grabouski, who'd also won IMCA Modified national crowns in 2011, 2016 and last year. "A lot of the credit has to go to my wife and crew. When you race Thursday, Friday, Saturday and Sunday nights, they put up with a lot."
"But in 20 years, we'll be able to look back and appreciate even more what we were able to do."
Champion of the Jet Racing Central Region for Modifieds and EQ Cylinder Heads Northern Re­gion for Stock Cars, Grabouski raced to track titles in both divisions at Beatrice Speedway, Dawson County Raceway, Thunder Hill Speedway and U.S. 30 Speedway.
From Beatrice, Neb., he is the sixth driver to win national championships in different divi­sions and now third on the all-time Modified career wins list with 236 checkers.
Soppe's 21 feature wins this season included his Northern SportMod career 100th. The Sherrill, Iowa, speedster scored track titles at Maquoketa Speedway and Dubuque Speedway.
Three drivers raced to career-first Modified regional championships, Bricen James in the Shaw Race Cars Western, Tom Berry Jr. in the Side Biter Chassis North Central and Matt Szecsodi in the Dirt Works Eastern. 
James, from Albany, is the first Oregon driver to earn an IMCA regional prize. The 12-time feature win­ner collected Oregon State and Willamette Speedway titles as well.
Winner of a dozen features, Berry was track champion at Dacotah Speedway and Nodak Speedway. From Newburg, N.D., he also ruled the Kupper Chevrolet Dakota Classic Tour.
Szecsodi topped point standings at Silver Bullet Speedway and at Tri-City Motor Speedway. From Clio, Mich., he totaled 10 feature wins.
William Gould's 15 wins this season gives him 139 for his IMCA Modified career, in the top 25 all time for the division. Now a four-time champion of the Razor Chassis South Central Region, the Calera, Okla., veteran paced points at Grayson County Speedway and Southern Oklahoma, as well as the Oklahoma State standings.
Westin Abbey raced to his third EQ Cylinder Heads Southern Stock Car crown in four years. Cham­pion at both 281 and Heart O' Texas Speedway, the Comanche, Texas driver tallied 17 feature wins.
Jason Duggins became the second Farmington, N.M., driver to win the Big Daddy Race Cars Southern Hobby Stock Region in as many years. The eight-time feature winner was champion at Fairgrounds Speedway.
National rookies of the year were John Oliver Jr. of Danville, Iowa, Modifieds; Trey Burke of League City, Texas, Sprint Cars; Dallon Murty of Chelsea, Iowa, Stock Cars; Kaden Reynolds of Cedar Rapids, Iowa, Hobby Stocks; Cade Richards of Lincoln, Neb., Northern SportMods; Larry Underwood of Temple, Texas, Southern SportMods; and Steven Bevills of Granbury, Texas, Sport Compacts.
Two-division star Oliver won six Modified features, the track title at Lee County Speedway and the Stock Car crown at 34 Raceway.
Burke, Murty and Richards became the youngest drivers to earn top rookie honors in their respective divisions at the ages of 14, 14 and 15, respectively.
Burke won three features, Murty and Richards five each.
Reynolds and Bevills were both 10-time feature winners in 2019. Bevills also campaigned to Texas State and 281 Speedway and Boyd Raceway titles.
Murty and Reynolds were top rookies in their respective Northern regions. Underwood had raced to Southern Region Hobby Stock rookie of the year honors in 2016.
While Oliver paced rookie standings in the North Central Region, Jake Pike of Pahrump, Nev., led the way in the West, Austin Svoboda of David City, Neb., in the Central, Mark Adams of Haslet, Texas, in the South Central and Chase Burda of Columbiaville, Mich., in the East.
Burda, at 14, is the youngest driver to win a Modified regional rookie award. Pike is 15.
The track champion at 281 Speedway, Adams had three feature wins. Burda and Pike both won twice, Svoboda once.
Sam Spadaro Jr. of Weatherford, Texas, was the top rookie in the EQ Southern Region for Stock Cars. Nathan DeRagon of Peoria became the first Arizona driver to earn rookie honors in the Big Daddy Southern Hobby Stock Region. He was a five-time feature winner.
Taylor Florio of Copperas Cove, Texas, won Lady Eagle honors.
Champion of the Deery Brothers Summer Series was Andy Eckrich of Oxford, Iowa, and Dalton Simonsen of Fairfax, Iowa, was rookie of the year in the Late Model tour.
All national, regional, state, track and special series champions and rookies of the year will be honored at the national IMCA awards banquet, to be held Nov. 30 at the Marriott Cornhusker Hotel in Lincoln, Neb.
Point standings become official on Monday, Oct. 28.