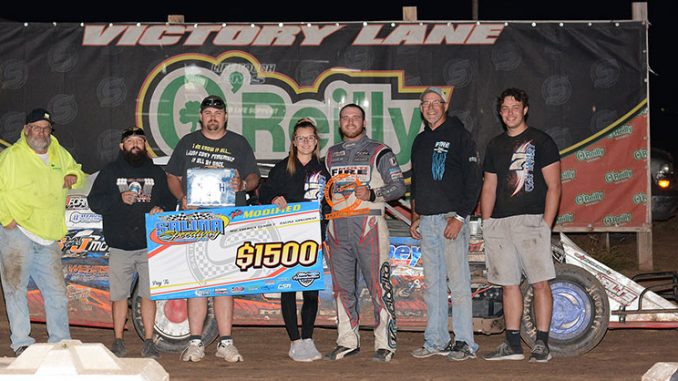 SALINA, Kan. (Sept. 27) – A second straight Mid-America Clash feature win had Clay Money al­ready looking forward to the 2020 season-ending special at Salina Speedway.
Money topped Friday's main event for IMCA Modifieds, earning $1,500 and a spot on the Fast Shafts All-Star Invitational ballot.
"It's pretty cool. I wish we could have gotten both shows in (Saturday was a rainout) and gone back-to-back racing against a lot of the best competition in Kansas," said Money, who started out­side row one and led the last 19 of 20 circuits. "Hopefully we can win it again next year."
Also the winner of a topless special at Salina earlier this season, he took the Friday checkers follow­ing a late restart, beating Dustin Daniels and Clay Sellard to the stripe. Tim Watts and 12th starting Kurtis Pihl rounded out the top five.
"I just tried to hold my line and be smooth after the last restart," he said.
After a number of early restarts, Kyle Pfeifer raced from seventh starting to the lead five laps into the IMCA Sunoco Stock Car main event. Last year's runner-up went on to the $1,000 checkers as cars battled for position behind him and the feature stayed green after midway.
Angel Munoz, Mike Petersilie, Bryan Rigsby and Colton Miller were next across the line.
Taking home $750 checks were IMCA Sunoco Hobby Stock winner Jeff Ware and Karl Kustoms Northern SportMod winner Tyler Nerud. Brad Gallagher's Mach-1 Sport Compact checkers paid $325.
Win number 29 on the season for Ware came from the outside row one start. He led every lap, with Jesse Vanlaningham and Tony Slothower scored next. Tenth starting Tathan Burkhart and Mike Traskowsky were fourth and fifth, respectively.
Nerud notched his fifth victory of 2019, logging a lot of practice laps on Thursday and finding the right setup for his first Salina checkers before heading home and going to work on Saturday.
Jacob Olmstead started 10th and ended as the runner-up, with Travis Burger, Jason Caldwell and Ty­ler Watts close behind.
Gallagher sped from fifth to take the lead at half­way, then hold off Shawn Hein, Toby Schwein, Drake Bohlmeyer and Brad Mayland for the Sport Compact victory.
Feature Results
Modifieds – 1. Clay Money; 2. Dustin Daniels; 3. Clay Sellard; 4. Tim Watts; 5. Kurtis Pihl; 6. Ty­ler Sutton; 7. Derrick Brown; 8. Danny Holt; 9. Curtis Barnes; 10. Ronnie Burkhardt; 11. Derek Smith 12. Larry Sutton; 13. Jacob Schmutz; 14. Anthony Roth; 15. Kaid Calhoon; 16. Nate Ginest; 17. Steven Bowers Jr.; 18. Brad Morris; 19. Danny Morrison; 20. Corey Lagroon; 21. Jordy Nelson; 22. Brian Knoell.
Stock Cars – 1. Kyle Pfeifer; 2. Angel Munoz; 3. Mike Petersilie; 4. Bryan Rigsby; 5. Colton Mil­ler; 6. Eric Rempel; 7. Jeremy Zorn; 8. Scott Phillips; 9. Troy Burkhart; 10. Matt Baker; 11. Kolby Stegman; 12. Mark Zorn; 13. Mike Burian; 14. Daniel King; 15. Joey Richmond; 16. Jason Rog­ers; 17. Gary Pesicka; 18. Dominic Thyfault; 19. A.J. Finch; 20. Tanner Portenier.
Hobby Stocks – 1. Jeff Ware; 2. Jesse Vanlaningham; 3. Tony Slothower; 4. Tathan Burkhart; 5. Mike Traskowsky; 6. Taylor Huss; 7. Chad Borgman; 8. Eric Cross; 9. Chris Lierz; 10. Cody Green; 11. Dion Priddy; 12. Bingston Rogers; 13. Greg Szalay; 14. Kyle Thompson; 15. Skyler Wissman; 16. Duane McAnarney; 17. Mallory Stiffler; 18. Tristan Grape; 19. Elliott May; 20. Caleb Da­vis; 21. Michael Wade.
Northern SportMods – 1. Tyler Nerud; 2. Jacob Olmstead; 3. Travis Burger; 4. Jason Caldwell; 5. Tyler Watts; 6. Seth Schroer; 7. Ernie Drown; 8. Zach Nitsch; 9. Shay Simoneau; 10. Tim Echevar­ria; 11. Tim Stallbaumer; 12. Billy Carreno; 13. Tony Filbert; 14. Mark Smith; 15. Tyler Wolf; 16. Joe Feyen; 17. Tristan Phillips; 18. Ron Tex Jr.; 19. Luke Stallbaumer; 20. Fred Traskow­sky.
Sport Compacts – 1. Brad Gallagher; 2. Shawn Hein; 3. Toby Schwien; 4. Drake Bohlmeyer; 5. Brad Mayland; 6. Amber Bird; 7. Alison Bird; 8. Zach Bohlmeyer; 9. Austin Bird; 10. Ashlyn Bird; 11. Blake Holmes; 12. Josh Howard; 13. Lane Crowder.