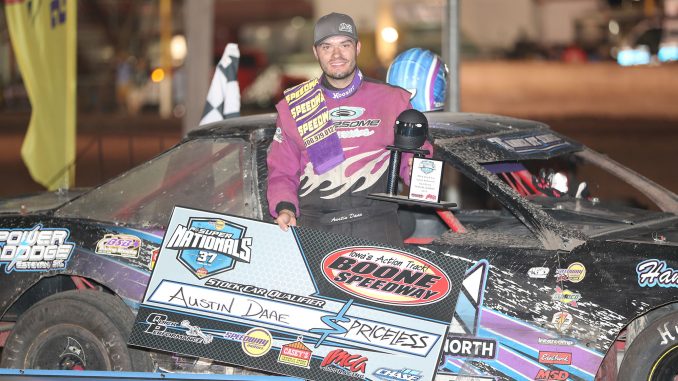 BOONE, Iowa (Sept. 6) – A regular visitor to America's Racin' Vacation and a candidate who helped make the IMCA Speedway Motors Super Nationals fueled by Casey's a truly international event were Stock Car qualifying feature winners Friday night.
David Smith of Lake City led all but the first two laps in topping the first qualifier at Boone Speed­way while Estevan's Austin Daae became just the second Canadian driver to make the Stock Car main event by winning the nightcap at Boone Speedway.
Top four finishers from both races move on to the Saturday Big Dance.
Smith passed eventual runner-up David Brandies of Wilton for the point on lap three. The only caution of the contest came with six to go and the top four running order of Smith, Brandies, Kyle Falck of Decorah and Brian Blessington of Breda remained unchanged to the checkers.
2001 king Blessington was one of five former Super Nationals champions in Friday's first qualifier. Smith joins brothers Devin and Donavon on the main event grid.
Daae made his trip to the front from outside row three, taking over the lead on lap 11. Tenth start­ing John Oliver Jr. of Danville headed up the pursuit the last half of the race but never caught up with the Canadian clipper.
Steve Meyer of Grundy Center and 14th starting Matt Speckman of Sleepy Eye, Minn., were next to the checkers.
The first Canadian driver to make the Stock Car main at Super Nationals was Rocky Alexander, also of Estevan, in 2011.
Blessington makes his career 14th Saturday night start, Smith his 13th.
Meyer is in for the fourth time, Oliver the third, and Brandies the second. Falck and Speckman join Daae as first-time qualifiers.
Feature Results
1st qualifier – 1. David Smith, Lake City; 2. David Brandies, Wilton; 3. Kyle Falck, Des Moines; 4. Brian Blessington, Breda; 5. Jesse Sobbing, Malvern; 6. Mike Nichols, Harlan; 7. Brandon Czarapata, Pulaski, Wis.; 8. Damon Murty, Chelsea; 9. Elijah Zevenbergen, Ocheyedan; 10. Aa­ron Stolp, Suamico, Wis.; 11. Troy Jerovetz, Iowa Falls; 12. Marcus Fagan, Adair; 13. Jake Nel­son, Williston, N.D.; 14. Austin Jahnz, Lewisville, Minn.; 15. Brock Badger, Bagley; 16. Craig Carl­son, Madrid; 17. Calvin Lange, Humboldt; 18. Mathew West, Kellerton; 19. Jeff Tubbs, Colby, Kan.; 20. Connor Masoner, St. Joseph, Mo.; 21. Rodney Richards, Madrid; 22. Lavern Carey, Ionia; 23. Darin Toot, Albert Lea, Minn.; 24. Dallon Murty, Chelsea; 25. Austin Bouzek, Trenton, Mo.; 26. Justin Temeyer, Independence; 27. Kelly Shryock, Fertile; 28. Rick Mees, Eagle Lake, Minn.; 29. Mike House, Panora; 30. Brian Cesar, Sheboygan, Wis.
2nd qualifier – 1. Austin Daae, Estevan, Sask.; 2. John Oliver Jr., Danville; 3. Steve Meyer, Grundy Center; 4. Matt Speckman, Sleepy Eye, Minn.; 5. Jay Schmidt, Tama; 6. Scott Davis, Ma­drid; 7. Kyle Brown, Madrid; 8. Mike Coel, Pulaski, Wis.; 9. Andrew Burg, Maricopa, Ariz.; 10. Cody Gustoff, Scranton; 11. Kirk Martin, Weatherford, Texas; 12. Tom Cannon, West Branch; 13. Char­lie Rustman, St. Peter, Minn.; 14. Sterling Sorensen, Portsmouth; 15. William Wade, San Angelo, Texas; 16. Bruce Wickmann, Emmetsburg; 17. Wayne Landheer, Thompson; 18. Kodiak Wirtz, Menominee Falls, Wis.; 19. Jeff McCollum, Mankato, Minn.; 20. Andrew Borchardt, Plym­outh; 21. Chris Luloff, Independence; 22. Dan Mackenthun, Hamburg, Minn.; 23. Dustin Larson, Rushmore, Minn.; 24. Jeremy Christians, Horicon, Wis.; 25. Paul Wenzlaff, Yankton, S.D.; 26. Don Vis, State Center; 27. Justin Nehring, Storm Lake; 28. Angel Munoz, Lamar, Colo.; 29. Rod Staats, Columbus Junction; 30. Todd VanEaton, Orient.