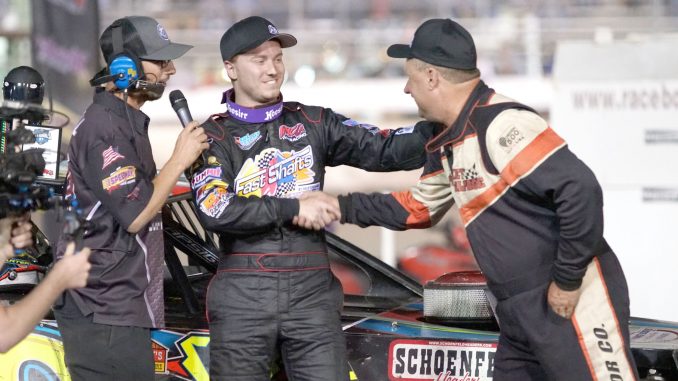 BOONE, Iowa (Sept. 6) – The drivers who ran 1-2 in last year's Modified main event both finished first in their respective qualifying features Friday night at the IMCA Speedway Motors Super Nationals fueled by Casey's.
Defending champion Jeff Aikey of Cedar Falls took the lead on the third lap, then outran a determined Steven Bowers Jr. following a late restart in the first qualifier. 2018 runner-up Cayden Carter of Oskaloosa led the last four times around the track in topping the nightcap at Boone Speedway.
The 12th starting Bowers, from Topeka, Kan., Russ Dickerson of Boone and Trent Loverude of New Ulm, Minn., completed the top four behind Aikey.
Carter had started the second qualifier from 13th, was all of a sudden in the top three by lap 10 and took the second spot from Riley Simmons of Susanville, Calif., after midway in the 25-lapper. He finally caught Malvern's Jesse Sobbing with four to go.
Sobbing, Simmons and Cory Wray of Trenton, Mo., were next across the stripe.
Top four finishers from both qualifiers advance to Saturday's main event.
Loverude and Wray both make first career starts in the Big Dance at Boone. Aikey, Bowers, Sobbing and Simmons are all in for the second time, Carter the fourth and Dickerson the sixth.
Aikey also counts six Late Model titles among his career record seven Super Nationals championships. He's taken the green in a total of 23 main events at America's Racin Vacation.'
Feature Results
1st qualifier – 1. Jeff Aikey, Cedar Falls; 2. Steven Bowers Jr., Topeka, Kan.; 3. Russ Dickerson, Boone; 4. Trent Loverude, New Ulm, Minn.; 5. Ethan Braaksma, Newton; 6. Nick Deal, Harlan; 7. Chris Elliott, Abilene, Texas; 8. Kody Scholpp, Estevan, Sask.; 9. Jay Noteboom, Hinton; 10. Josh Long, Little Suamico, Wis.; 11. Johnny Saathoff, Beatrice, Neb.; 12. Collen Winebarger, Corbett, Ore.; 13. William Gould, Calera, Okla.; 14. Clay Money, Penokee, Kan.; 15. J.J. Wise, Garner; 16. Brandon Beckendorf, Danube, Minn.; 17. Chris Mills, Sioux City; 18. Jesse Skalicky, Fargo, N.D.; 19. Jim Thies, Mapleton; 20. Richard Michael Jr., Ischua, N.Y.; 21. Scott Hogan, Vinton; 22. Terry Hurt, Omaha, Neb.; 23. Kyle Brown, Madrid; 24. Steve Reynolds, Springfield, S.D.; 25. Cory Davis, Eunice, N.M.; 26. Justen Yeager, Green River, Wy.; 27. Scott Olson, Blairsburg; 28. Ricky Alvarado, Delta, Colo.; 29. Jeremy Richey, Medford, Ore.; 30. Chris Abelson, Sioux City.
2nd qualifier – 1. Cayden Carter, Oskaloosa; 2. Jesse Sobbing, Malvern; 3. Riley Simmons, Susanville, Calif.; 4. Cory Wray, Trenton, Mo.; 5. Billy Kendall, Baxter, Minn.; 6. Nick Meyer, Whittemore; 7. Chaz Baca, Mesa, Ariz.; 8. Grey Ferrando, Stayton, Ore.; 9. Matthew Meinecke, Jamaica; 10. Kollin Hibdon, Pahrump, Nev.; 11. Hunter Marriott, Brookfield, Mo.; 12. Brock Bauman, Eureka, Ill.; 13. Regan Tafoya, Farmington, N.M.; 14. Dustin Kroening, Hebron, Ill.; 15. Jesse Rogotzke, Sanborn, Minn.; 16. Dan Menk, Franklin, Minn.; 17. Zachary Madrid, Tucson, Ariz.; 18. Jeff Wiggins, Greenfield; 19. Jason Schneiders, North Sioux City; 20. Kenny Wyman Jr., Goodyear, Ariz.; 21. Mike Jergens, Havelock; 22. Tim Watts, Beloit, Kan.; 23. Keegan Nordquist, Beresford, S.D.; 24. Todd Shute, Norwalk; 25. Cody Knecht, Whittemore; 26. Kelsie Foley, Tucson, Ariz.; 27. Tony Hilgenberg, Waukee; 28. Joey Price, Great Falls, Mont.; 29. Chris Palsrok, Sibley; 30. Lucas Lamberies, Clintonville, Wis.