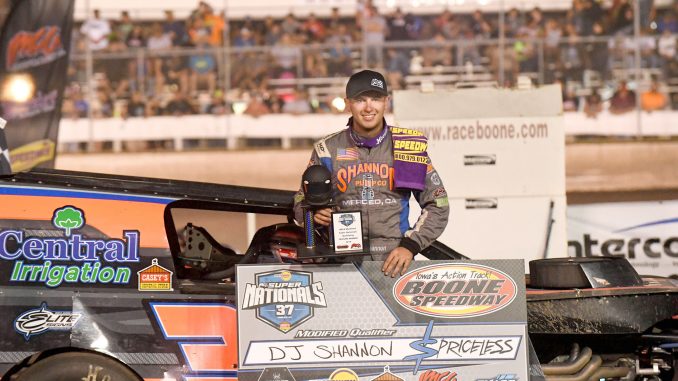 BOONE, Iowa (Sept. 5) – They were dancing in streets all over the Golden State Thursday night.
Nick Roberts had them dancing in the street in Des Moines later in the evening.
Californians D.J. Shannon of Merced, Cody Laney of Torrance and Randy Brown of Chowchilla led 2010 champion Jimmy Gustin of Marshalltown across the stripe in the first of two Modified qualifying features at the IMCA Speedway Motors Super Nationals fueled by Casey's.
The nightcap saw Roberts, from Des Moines and the 2012 Northern SportMod champion at Super Nationals, beat Jordan Grabouski of Beatrice, Neb., Kelly Shryock of Fertile and Jeff Taylor of Cave City, Ark., to the checkers.
The national Modified and Stock Car point leader, Grabouski had won a Stock Car qualifier earlier in the program. Taylor was the Modified champ at Super Nationals seven years go.
All eight drivers will advance to the middle row of Saturday's main event at Boone Speedway.
Brown led the first three laps of the opening qualifier before Shannon buzzed by. Shannon, Laney and Brown ran 1-2-3 before and after the only caution of the contest on lap 16. They were followed at the finish by former Super Nationals champions Jimmy Gustin, Richie Gustin and Todd Shute.
Roberts drew the pole start and ran in front all 25 times around the track, pursued first by Billy Kendall and then by Grabouski the last 22 circuits.
The race ran green the last 19 laps; Shryock was scored third every time around while Taylor made his way from 15th starting to the final transfer spot on lap 16.
Shannon and Brown both make career-first starts in the Big Dance at Boone. Laney and Roberts are both in for the fourth time, Taylor for the fifth and Grabouski for the sixth.
Gustin qualified for the 13th time, Shryock for the 14th. He counts a pair of runner-up finishes and six top five runs in Super Nationals starts since 1988.
Feature Results
1st qualifier – 1. D.J. Shannon, Merced, Calif.; 2. Cody Laney, Torrance, Calif.; 3. Randy Brown, Chowchilla, Calif.; 4. Jimmy Gustin Marshalltown; 5. Richie Gustin, Gilman; 6. Todd Shute, Norwalk; 7. Ryan McDaniel, Olivehurst, Calif.; 8. Chris Abelson, Sioux City; 9. Hunter Marriott, Brookfield, Mo.; 10. Matt Guillaume, Haslet, Texas; 11. Jesse Sobbing, Malvern; 12. Jon Snyder, Ames; 13. Russ Dickerson, Boone; 14. Clay Money, Penokee, Kan.; 15. Riley Simmons, Susanville, Calif.; 16. Johnny Whitman, Suamico, Wis.; 17. Nick Deal, Harlan; 18. Ryan Jenkins, Omaha, Neb.; 19. Aaron Johnson, Brainerd, Minn.; 20. Wade Taylor, Spring Creek, Nev.; 21. Troy Cordes, Dunkerton; 22. Mitchell Hunt, Kent City, Mich.; 23. Braxton Yeager, Green River, Wyo.; 24. Robert Moore, Sioux City; 25. Mike Petersilie, Hoisington, Kan.; 26. Terry Hurt, Omaha, Neb.; 27. Keith Hammett, Brookland, Ark.; 28. Mike Lineberry, Fremont, Neb.; 29. Ben Wilson, Colo; 30. Joey Price, Great Falls, Mont.
2nd qualifier – 1. Nick Roberts, Des Moines; 2. Jordan Grabouski, Beatrice, Neb.; 3. Kelly Shryock, Fertile; 4. Jeff Taylor, Cave City, Ark.; 5. Anthony Roth, Columbus, Neb.; 6. Matthew Meinecke, Jamaica; 7. Billy Kendall, Baxter, Minn.; 8. Josh Gilman, Earlham; 9. Chris Elliott, Abilene, Texas; 10. Jim Thies, Mapleton; 11. Drew Armstrong, Alexander, Ark.; 12. Scott Hogan, Vinton; 13. Tanner Black, Otis, Kan.; 14. Travis Hatcher, Honey Creek; 15. Chaz Baca, Mesa, Ariz.; 16. Joe McBirnie, Boone; 17. David Brown, Kellogg; 18. Clint Wendel, Mason City; 19. Jeff Feaster, Dakota City; 20. Chase Hansen, Myton, Utah; 21. Curtis Barnes, Lindsborg, Kan.; 22. Ryan Gillmore, Springfield, Mo.; 23. Ryan Ruter, Kanawha; 24. Josh Most, Red Oak; 25. Collen Winebarger, Corbett, Ore.; 26. Cory Wray, Trenton, Mo.; 27. Kyle Brown, Madrid; 28. Dylan Book, Adel; 29. Austin Wonch, Crystal, Mich.; 30. Grey Ferrando, Stayton, Ore.
Nick Roberts led all 25 laps of Thursday's second Modified qualifying feature at Super Nationals. (Photo by Melissa Coker, Melissa's Out On A Limb Photography)