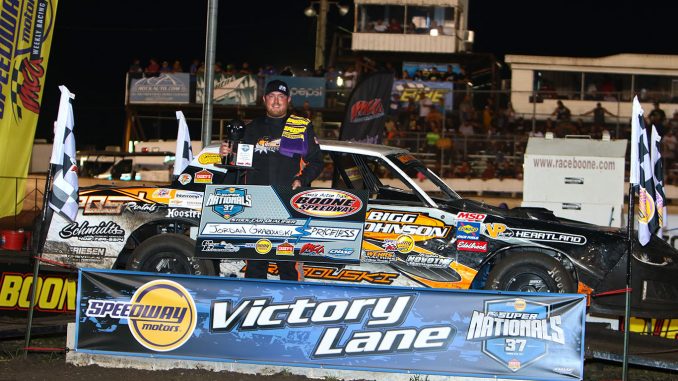 BOONE, Iowa (Sept. 5) – Jordan Grabouski and Jeffrey Larson wrote their names in the IMCA Speedway Motors Super Nationals fueled by Casey's record book with Stock Car qualifying feature wins Thursday night.
Ricky Thornton Jr. and Hesston Shaw put their names in the history book with second and third-place finishes, respectively, on night four of America's Racin' Vacation at Boone Speedway.
Grabouski, the current national point leader in both IMCA Modified and IMCA Sunoco Stock Car divisions, led the last 19 of 25 laps in topping the first qualifier ahead of Jeff Mueller of Albion, Shaw, from Hennessey, Okla., and 16th starting Cayden Carter of Oskaloosa.
Larson was even more dominant in pacing the second qualifier from start to finis. He won in front of Thornton, from Adel, 14th starting Johnny Spaw of Cedar Rapids and Jason Rogers of Selden, Kan.
All eight move on to the middle row of the main event grid Saturday night.
Shaw became the first Sooner State driver to make the main event since Stock Cars were added to the Super Nationals program in 1988. Thornton, who won Monday's Deery Brothers Summer Series feature for Late Models and his Modified qualifier on Wednesday, became just the second driver to qualify for main events in three different divisions at the same Super Nationals. Carter had done so, in the same three divisions, in 2017.
Grabouski slipped past Mueller for the point on the seventh circuit, held the front spot through three midway cautions and stayed in control to the checkers.
Larson was pulling away by the time lap seven was scored in the nightcap. Back-to-back cautions flew on lap 10, Thornton was up to second by lap 20 and the final yellow came out when fourth running Mike Albertsen's engine expired with three laps left.
Mueller will make his sixth Saturday night start at Boone, Larson his fifth, Carter his third and Thornton and Spaw both their second, while Grabouski and Rogers join Shaw as first-time qualifiers.
Feature Results
1st qualifier – 1. Jordan Grabouski, Beatrice, Neb.; 2. Jeff Mueller, Albion; 3. Hesston Shaw, Hennessey, Okla.; 4. Cayden Carter, Oskaloosa; 5. Kyle Brown, Madrid; 6. Randy Brands, Boyden; 7. David Brandies, Wilton; 8. Jeff Whiting, Gothenberg, Neb.; 9. Angel Munoz, Lamar, Colo.; 10. Brock Badger, Bagley; 11. Brandon Czarapata, Pulaski, Wis.; 12. Derrick Agee, Huntsville, Mo.; 13. Barrett Wagoner, Colby, Kan.; 14. Kyle Clough, Wallace, Neb.; 15. Rod Staats, Columbus Junction; 16. William Wade, San Angelo, Texas; 17. Calvin Lange, Humboldt; 18. Ryan Harris, Homer, Neb.; 19. Chris Luloff, Independence; 20. Austin Bouzek, Trenton, Mo.; 21. Aaron Cain, Sioux City; 22. Dustin Vis, Cedar Rapids; 23. Austin Evens, Independence; 24. Dustin Larson, Rushmore, Minn.; 25. Reid Keller, Webster City; 26. Brandon Pruitt, Stuart; 27. Mike Coel, Pulaski, Wis.; 28. Elijah Zevenbergen, Ocheyedan; 29. Todd Reitzler, Grinnell; 30. Cole Mather, Oelwein.
2nd qualifier – 1. Jeffrey Larson, Lakefield, Minn.; 2. Ricky Thornton Jr., Adel; 3. Johnny Spaw, Cedar Rapids; 4. Jason Rogers, Selden, Kan.; 5. Matt Speckman, Sleepy Eye, Minn.; 6. Jay Schmidt, Tama; 7. Troy Jerovetz, Iowa Falls; 8. Kyle Everts, Holland; 9. Aaron Stolp, Suamico, Wis.; 10. John Oliver Jr., Danville; 11. Damon Murty, Chelsea; 12. Heath Tulp, Britt; 13. Mike Nichols, Harlan; 14. Derek Green, Granada, Minn.; 15. Travis Van Straten, Hortonville, Wis.; 16. Tim Pessek, Hutchinson, Minn.; 17. Kyle Pfeifer, Hill City, Kan.; 18. Austin Jahnz, Lewisville, Minn.; 19. Buck Schafroth, Orient; 20. Justin Nehring, Storm Lake; 21. Dusty Van Horn, Atlantic; 22. Chad LeGere, Ankeny; 23. Mike Albertsen, Audubon; 24. Brian Blessington, Breda; 25. Jimmy Gustin, Marshalltown; 26. Les Lundquist, Sioux City; 27. Chad Krogmeier, Burlington; 28. Westin Abbey, Comanche, Texas; 29. Jeremy Christians, Horicon, Wis.; 30. Curt Lund, Redwood Falls, Minn.