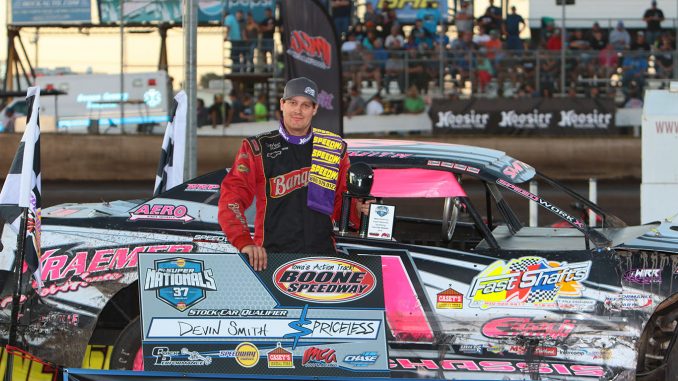 BOONE, Iowa (Sept. 4) – Devin Smith and Jason See added to their trophy collections by taking home the hardware in Wednesday night Stock Car qualifying features at the IMCA Speedway Motors Super Nationals fueled by Casey's.
2014 champion Smith outran Abe Huls, brother Donavon Smith and Josh Daniels for top four trans­fer spots in the opener. The nightcap was a battle of hard chargers as 11th starting See, 27th starting Bryan Rigsby, Jeffrey Abbey and 30th starting Mike Van Genderen also moved on to Satur­day's main event at Boone Speedway.
Devin Smith set the fast pace from the initial green in the first qualifier, stopped by caution just once. Defending champion Damon Murty was on the move before getting caught up in a turn two mishap at midway; Huls regained the second spot from 2009 and 2012 champion Donavon Smith with two laps left.
See made like a rocket in the second qualifier, moving from inside row six at the start to the front in just eight circuits.
A succession of potential challengers took their turns running in second but none could get close despite two mid-race restart opportunities. Rookie contender Dallon Murty was running in third before bringing out the final yellow with a couple laps left.
Rigsby completed his amazing charge to the runner-up spot while Abbey, who would qualify for the Modified main event later in the evening, was third. Van Genderen ended an incredible last starting to fourth finishing drive of his own.
Donavon Smith, from Lake City, will start the main event for the 13th time while Huls, from Car­thage, Ill., is in for the seventh time and Van Genderen, from Newton, for the sixth.
Devin Smith, also from Lake City, and Carlisle's Daniels are both four-time qualifiers. See hails from Albia and starts his third Saturday night show.
Abbey, from Comanche, Texas, and Rigsby, from Topeka, Kan., both qualified for the first time.
Feature Results
1st qualifier – 1. Devin Smith, Lake City; 2. Abe Huls, Carthage, Ill.; 3. Donavon Smith, Lake City; 4. Josh Daniels, Carlisle; 5. Curt Lund, Redwood Falls, Minn.; 6. Jeremy Christians, Horicon, Wis.; 7. Jay Schmidt, Tama; 8. Westin Abbey, Comanche, Texas; 9. Chad Palmer, Renwick; 10. Heath Tulp, Britt; 11. John Oliver Jr., Danville; 12. Kyle Clough, Wallace, Neb.; 13. Damon Murty, Chelsea; 14. Terry Dulin, Cedar Rapids; 15. Jake Nelson, Williston, N.D.; 16. Calvin Lange, Hum­boldt; 17. Gary Pesicka, Burt; 18. Craig Carlson, Madrid; 19. Scott Davis, Madrid; 20. Kirk Martin, Weatherford, Texas; 21. Colby Klaassen, Little Rock; 22. Travis Baird, Sharon, Okla.; 23. Kevin Balmer, Gawin; 24. David Brandies, Wilton; 25. Kyle Pfeifer, Hill City, Kan.; 26. Danny Myrvold, Westbrook, Minn.; 27. Todd VanEaton, Orient; 28. Donnie Pearson, Oskaloosa; 29. David Smith, Lake City; 30. Jeff Mueller, Albion.
2nd qualifier – 1. Jason See, Albia; 2. Bryan Rigsby, Topeka, Kan.; 3. Jeffrey Abbey, Comanche, Texas; 4. Mike Van Genderen, Newton; 5. Todd Reitzler, Grinnell; 6. Dustin Larson, Rushmore, Minn.; 7. Mike Petersilie, Hoisington, Kan.; 8. Justin Nehring, Storm Lake; 9. Nicholas Strobbe, Gillett, Wis.; 10. Dallon Murty, Chelsea; 11. Jordan Grabouski, Beatrice, Neb.; 12. Johnny Spaw, Cedar Rapids; 13. Mike Coel, Pulaski, Wis.; 14. Kelly Shryock, Fertile; 15. Jesse Sobbing, Mal­vern; 16. Austin Daae, Estevan, Sask.; 17. Randy Brands, Boyden; 18. Brian Efkamp, Ankeny; 19. Eric Bartels, Plymouth, Neb.; 20. Brenton Palmer, Sioux City; 21. Jeffrey Larson, Lakefield, Minn.; 22. Elijah Zevenbergen, Ocheyedan; 23. Charlie Rustman, St. Peter; 24. Dustin Vis, Cedar Rap­ids; 25. Chris Toot, Albert Lea, Minn.; 26. Travis Barker, Sioux City; 27. Cole Mather, Oelwein; 28. Ja­son Rogers, Selden, Kan.; 29. Troy Burkhart, Hays, Kan.; 30. Rodney Richards, Madrid.