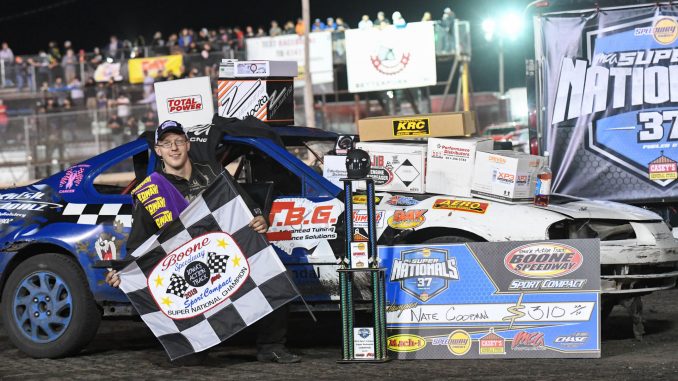 BOONE, Iowa (Sept. 3) – The second night of the IMCA Speedway Motors Super Nationals fueled by Casey's produced a second two-time champion.
Nate Coopman chased Mitchell Bielenberg the first 16 times around the track, then led the last nine laps of Tuesday's Sport Compact main event at Boone Speedway after Bielenberg bowed out with mechanical issues.
Along with a check for $310, Coopman took home a bookend trophy to match his hardware from his Super Nationals triumph in 2015.
"It's awesome. Words can't even describe what winning Super Nationals a second time means to me," the Mankato, Minn., driver said. "I didn't think I had a very good chance coming in but starting on the (outside of) the front row was a plus."
Brandon Reu, Trent Orwig, Ramsey Meyer and Caine Mahlberg completed the top five.
Mahlberg had started 19th while hard charger Lucas Parsons drove from 28th starting to ninth.
Bielenberg had started on the middle of the front row and led Coopman around the top side of the oval. Their two-car battle was interrupted by cautions on laps eight and 13.
The race stayed green following the midway caution. Reu and Orwig ran second and third from that point, respectively, while Meyer cracked the top four with six to go.
"It was pretty much the top side of the track that worked for me," said Coopman, who joined Jacob Ellithorpe (2012 and 2013) as two-time Sport Compact Super Nationals champions. "I wanted to make sure nobody could get around me."
Opening night at Boone saw Ricky Thornton Jr. win the Deery Brothers Summer Series main event for Late Models. He'd been the Modified champion at Super Nationals in 2016.
Feature results – 1. Nate Coopman, Mankato, Minn.; 2. Brandon Reu, Donnellson; 3. Trent Orwig, Ottumwa; 4. Ramsey Meyer, Pierce, Neb.; 5. Caine Mahlberg, Dunlap; 6. Kaytee DeVries, Spencer; 7. Michael Brehmer, Oconto Falls, Wis.; 8. Kimberly Abbott, Camp Point, Ill.; 9. Lucas Parsons, Burt; 10. Chuck Fullenkamp, West Point; 11. Jay DeVries, Spencer; 12. Oliver Monson, Humboldt; 13. Brandon Allison, Oskaloosa; 14. Tyler Fiebelkorn, Exira; 15. Curtis Masterson, Reasnor; 16. Logan Richards, Creston; 17. Mick Rykhus, LeCenter, Minn.; 18. Mitchell Bielenberg, Charlotte; 19. Jake Benischek, Durant; 20. Jerry Coopman, Mankato, Minn.; 21. Jarad Gross, Spencer; 22. Riley Paysen, Wall Lake; 23. Devin Jones, Mason City; 24. Chris Vannausdle, Villisca; 25. Jade Lange, Humboldt; 26. Steffen Oaks, Lincoln, Neb.; 27. Mitchell Bunch, Des Moines; 28. Matt Brehmer, Pulaski, Wis.; 29. Leonard Cunningham, Onawa; 30. Josh Barnes, Keokuk.