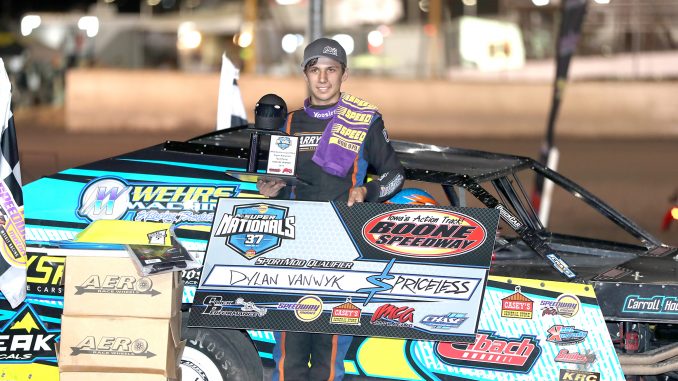 BOONE, Iowa (Sept. 2) – Dylan van Wyk admitted to being "kind of speechless" during the inter­view that followed his Monday night Northern SportMod qualifying feature victory at the IMCA Speedway Motors Super Nationals fueled by Casey's.
The 18-year-old from Oskaloosa didn't have to say much. He'd done all his talking on the track.
Van Wyk mastered lapped traffic while holding off defending champion Jake McBirnie for the win and pole start in Saturday's main event at Boone Speedway.
"It's pretty cool. My first year running a big car makes it even better," he said.
Lining up behind van Wyk and McBirnie, from Boone, on the inside row Saturday will be fellow top eight finishers Joe Docekal of Dysart – last year's runner-up – Alec Fett of Thompson, na­tional point leader Cody Thompson of Sioux City, Nate Whitehurst of Mason City, Doug Cook of Algona and Cory Pestotnik of Boone.
Pestotnik joins van Wyk as a first-time Super Nationals qualifier. Fett and Thompson are in the Big Dance for the second time, Whitehurst for the third, McBirnie and Docekal both for the fourth and Cook for the fifth.
The middle and outside rows of eight qualify Tuesday, with a last-chance race on Wednesday determining the final six starters.
Qualifying feature results – 1. Dylan van Wyk, Oskaloosa; 2. Jake McBirnie, Boone; 3. Joe Docekal, Dysart; 4. Alec Fett, Thompson; 5. Cody Thompson, Sioux City; 6. Nate Whitehurst, Ma­son City; 7. Doug Cook, Algona; 8. Cory Pestotnik, Boone; 9. Colby Fett, Algona; 10. Tyler Soppe, Sherrill; 11. Frank Packer, Boone; 12. Dustin Lynch, Boone; 13. Daniel Fellows, Keokuk; 14. Doug Smith, Lake City; 15. Tony Olson, Cedar Rapids; 16. Jake Elmquist, Boone; 17. Johna­thon Logue, Logansport; 18. George Nordman, Mason City; 19. Gunnar Pike, South Bend, Neb.; 20. Chris Wright, Chillicothe, Mo.; 21. Zech Norgaard, Spencer; 22. Brayton Carter, Oskaloosa; 23. Adam Birck, Canton, Mo.; 24. Austen Becerra, Carthage, Ill.; 25. Chad Ryerson, Wellsburg; 26. Ryan Reed, McCausland; 27. Jake Hagemann, Fort Ripley, Minn.; 28. Chad Shaw, Trimble, Mo.; 29. Jeff Lloyd LeCenter, Minn.; 30. Colton Nelson, Osceola.