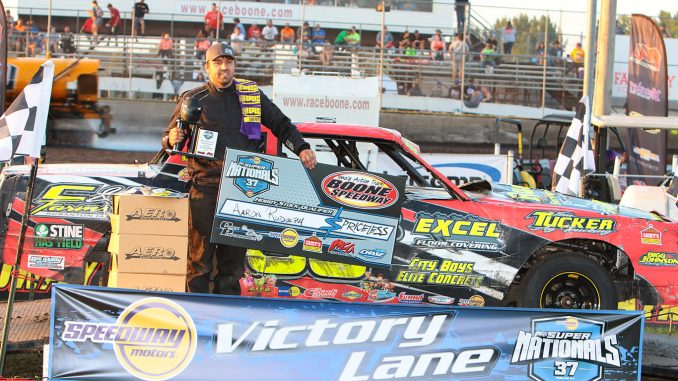 BOONE, Iowa (Sept. 2) – Aaron Rudolph and Adam Ayers raced their way to front row starting spots in the main event, with Hobby Stock qualifying feature victories on opening night of the IMCA Speedway Motors Super Nationals fueled by Casey's.
Rudolph continued his Boone Speedway success, earning Saturday's pole by winning the first qualifier while Ayers victory in the second qualifier netted him the front spot on the middle row.
Top eight drivers in both Monday qualifiers advance to the Big Dance.
Chasing Rudolph, from Grand Junction, across the stripe were Trevor Holm of Chandler, Minn., James Johnson of Cherokee, Brandon Nielsen of Spencer, Cory Stone of Lovington, the first New Mexico driver to make the Hobby Stock main at America's Racin' Vacation, Braxton Berry of Colby, Kan., hard charger Michael Kimm of Vinton and Matt Hanson of Slayton, Minn.
The next seven scored behind Ayers were Kevin Bruck of Dunlap, 2017 and 2018 runner-up Co­rey Madden of Avoca, Jason Kohl of Missouri Valley, Drew Barglof of Sioux Rapids, Jeff Ware of Columbus, Neb., Miciah Hidlebaugh of Adel and Eric Stanton of Carlisle.
Joining Stone as first-time qualifiers were Berry, Kimm, Hanson, Hidlebaugh and Bruck while John­son and Ayers will both start career second Saturday shows.
Holm is in for the third time, national points leader Ware for the fourth and Rudolph, Nielsen and Barglof each for the fifth.
Kohl is now an eight-time Super Nationals qualifier, Madden will go dancing for the ninth time and Stanton will start his career 10th main event.
The outside row of eight qualifies Tuesday night with the final six starters added in last-chance qualifying on Wednesday.
Feature Results
1st qualifier – 1. Aaron Rudolph, Grand Junction; 2. Trevor Holm, Chandler, Minn.; 3. James John­son, Cherokee; 4. Brandon Nielsen, Spencer; 5. Cory Stone, Lovington, N.M.; 6. Braxton Berry, Colby, Kan.; 7. Michael Kimm, Vinton; 8. Matt Hanson, Slayton, Minn.; 9. Jacob Floyd, Ce­dar Rapids; 10. Dylan Nelson, Adel; 11. John Watson, Des Moines; 12. Josh Vancannon, Ogden; 13. Tanner Jones, Ogallala, Neb.; 14. Matt Brown, Dysart; 15. Zach Bales, Merrill; 16. Jeremiah Wilson, Waterloo; 17. Brady Larkins, Deshler, Neb.; 18. Eric Knutson, Slater; 19. Kaden Reynolds, Ce­dar Rapids; 20. Mike Smith, Lake City; 21. Dillon Richards, Beatrice, Neb.; 22. Greg Sidles, Fairmont, Minn.; 23. Tim Gonska, Brainerd, Minn.; 24. Malik Sampson, Worthington, Minn.; 25. Tony Fetterman, Elk Point, S.D.; 26. Andy Hoffman, Sioux City; 27. Dillon Magnussen, Newell; 28. Roger Jenniges, Echo, Minn.
2nd qualifier – 1. Adam Ayers, Adair; 2. Kevin Bruck, Dunlap; 3. Corey Madden, Avoca; 4. Jason Kohl, Missouri Valley; 5. Drew Barglof, Sioux Rapids; 6. Jeff Ware, Columbus, Neb.; 7. Miciah Hidlebaugh, Adel; 8. Eric Stanton, Carlisle; 9. Tyson Overton, Carlisle; 10. Andrew Claus, Spen­cer, 11. Seth Butler, Scranton; 12. Nathan Ballard, Marengo; 13. Nick Beckman, Lincoln, Neb.; 14. Jack Phillips, Mitchellville; 15. Sal Hernandez, Columbus, Neb.; 16. Wyatt Lehman, Norfolk, Neb.; 17. D.J. Clinton, Estherville; 18. Tanner Dixon, Nodaway; 19. Tathan Burkhart, Hays, Kan.; 20. Chuck Madden Jr., Avoca; 21. Brandon Cox, Norwalk; 22. Solomon Bennett, Minburn; 23. Craig Clift, Sioux City; 24. Wes Jahnz, St. James, Minn.; 25. Seth Janssen, Ogden; 26. Brett Vanous, Quasqueton; 27. Keeran Sampson, Worthington, Minn.; 28. Rusty Gyles, St. Charles.