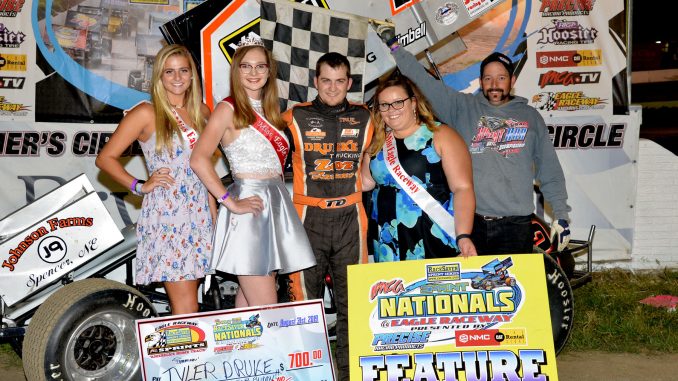 By Greg Soukup
EAGLE, Neb. (Aug. 31) – Tyler Drueke's first win of the RaceSaver Nationals weekend paid him $700 while Jake Bubak won for the second time in as many nights Saturday at Eagle Raceway.
Drueke topped the qualifying feature for IMCA RaceSaver Sprint Cars, while Bubak scored the $1,000 Jake Ita Memorial Race of Champions checkers.
Drueke took over the front spot on lap 12 when Joey Danley dropped to the infield. Dusty Ballenger moved up to third after two more laps.
Ballenger got past Toby Chapman on a restart with 10 laps left to take second. Cody Ledger moved the 47 into the fourth spot with 8 to go and took over third the next time around. The final change in the top four came with three laps left when Stu Snyder put his no. 5S into fourth.
The top four were Drueke, Ballenger, Ledger and Snyder. Ledger was disqualified in post-race tech for refusing to tech. That moved Luke Cranston into fourth. Joining the top four to fill rows four through six Sunday for the finale were Chapman, Bradley Starrett, Michelle Melton, Adam Gullion and defending race win­ner Kevin Ramey.
"We lost a few spots because of the magneto points giving up last night, causing us to fall out running sixth. But finishing first tonight was the best that we could do, and starting 10th Sunday was the best we could hope for," Drueke said. "We got the job done, though."
Bubak, winner of the Friday night qualifier, got the job done in the Ita ROC.
He'd started 11th and passed Jason Martin with 10 laps to go to for the lead. Jake Martens made a huge move three laps later, vaulting all the way to third.
That made the top four Bubak, Martin, Martens and Starrett.
Shawn Harker was the Karl Kustoms Northern SportMod winner.
Feature Results
RaceSaver Sprint Cars – 1. Tyler Drueke, Eagle; 2. Dusty Ballenger, Harrisburg, S.D.; 3. Stuart Snyder, Lincoln; 4. Luke Cranston, Holcomb, Kan.; 5. Toby Chapman, Panama; 6. Bradley Sterrett, Bloomington, Ind.; 7. Michelle Melton Flower Mound, Texas; 8. Adam Gullion, Lincoln; 9. Kevin Ramey, Fort Worth, Texas; 10. Trey Gropp, Lincoln; 11. Jason Howell, Fort Worth, Texas; 12. Shon Pointer, Grand Island; 13. Dustin Stroup, Fremont, Ohio; 14. Ryan King, Bennet; 15. Neil Nickolite, Bellwood; 16. Jacob Harris Vi­dor, Texas; 17. Mike Moore, Des Moines, Iowa; 18. Clint Benson, Papillion; 19. Joey Danley, Lincoln.
Jake Ita Memorial Race of Champions – 1. Jake Bubak, Arvada, Colo.; 2. Jason Martin, Lincoln; 3. Jake Martens, Fairview, Okla.; 4. Sterrett; 5. Trevor Grossenbacher, Bennet; 6. Ramey; 7. Drueke; 8. Gul­lion; 9. Moore; 10. Brooklyn Holland, Fresno, Calif.; 11, Trey Burke, League City, Texas; 12. Jacob Go­mola, Seneca, Pa.; 13. Jack Potter, Lees Summit, Mo.; 14. Jerald Harris, Dayton, Va.; 15. Jeremy Schultz, Stewart, Minn.; 16. Blake Mallory, Joshua, Texas; 17. Kaleb Johnson, Sioux Falls, S.D.; 18. Claud Estes III, Godley, Texas; 19. Andy Shouse, Mustang, Okla.; 20. Ethan Barrow, Unionville, Ind.
Karl Kustoms Northern SportMods – 1. Shawn Harker; 2. Matthew Andrews; 3. Mary Lenz; 4. Cole Wayman; 5. Gunnar Pike; 6. Mike Scheinost; 7. Adam Vrbka; 8. Joe Feyen; 9. Gary Saathoff; 10. Lane Cornwell; 11. Dion Kovar; 12. Rich Flock; 13. Buddy Ray Jones; 14. Nick Morris; 15. Amber Cook; 16. Tyler Harr; 17. Trevor Noonan; 18. Roger Sluka; 19. Jacob Slough; 20. Jacob Swanson.