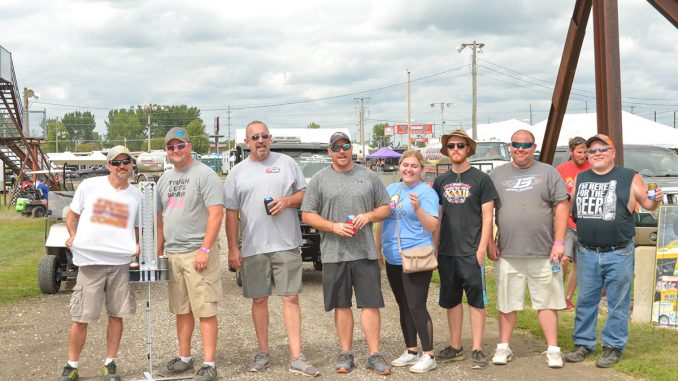 BOONE, Iowa (Sept. 1) – Tim Staley and Dustin Brooks came to Boone to enjoy the races and party.
They also became the first champions crowned at the 37th annual IMCA Speedway Motors fueled by Casey's.
The Muscatine duo, aka Team Shocker, won all seven of their games to capture the title of the first annual Scorezit Fun Day Bag Tourney presented by BBB Cornhole.
They defeated the Team Show Me The Money pair of Dave Musser and Toby Smith, both of Boone, 21-11 in a finale broadcast on Facebook Live to earn a $588 top check and a Scorezit scorekeeper
Forty-nine teams vied and more than 150 games were contested in the inaugural tourney, played out behind the first set of turns at Boone Speedway.
"We're backyard players," said Staley, explaining their success as a combination of consistency, timing and adjustment.
"You have to play to your opponent," Brooks said.
"We're first annual Super Nationals bag tourney champions," he added. "We came here to party and watch the races. We'll go home as Super Nationals champions.
Musser and Smith earned $441 for their runner-up efforts. Team Sparky, Cheyenne Hines and Ashton Hubbell, both of Sterling, Ill., finished third and pocketed $294; Fourth place and $147 went to Team Here For the Beer, Darin Nelson and John Thorne, both of Adel.
The tourney field was expanded after the planned field of 32 was quickly filled; Boone Speedway's Coty Mallicoat said he'd received another 20 or so emailed inquiries after that.
Tournament Director Brett Greer oversees about seven such tourneys a year and was impressed with the turnout for the Sunday Fun Day event at Boone.
"It was a good tournament. Hopefully next year it will be even bigger," he said.
All $1,470 received in entry fees was paid back to the top four teams. IMCA, Boone Speedway and MyRacePass also gave prizes to tourney competitors.
Scorezit is a division of Wehrs Machine and Racing Products. Pre-orders for The Ultimate Scorekeeper will be taken during the week on Manufacturers' Row.