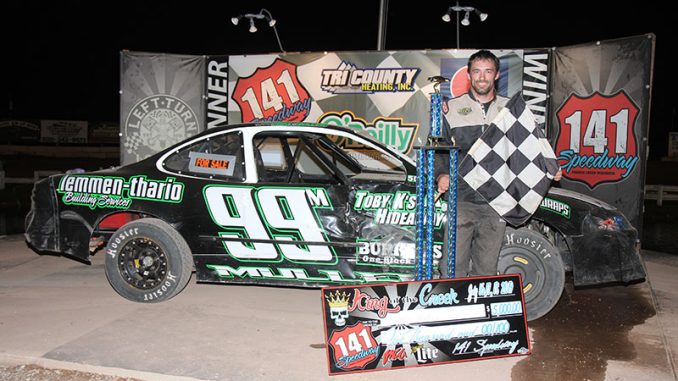 FRANCIS CREEK, Wis. (July 18) – Mike Mullen got his feet wet in the division and got his first IMCA Sunoco Stock Car feature win of the season last summer.
He got his second win and a $5,000 check Thursday night at 141 Speedway.
Mullen raced from eighth starting to rule the 50-lap King of the Creek special at Francis Creek, running in front of a field of heavyweights the last 30-plus circuits.
"There's a lot of good competition in this class," Mullen said, after taking the checkers ahead of Eric Arneson, Luke Lemmens, Jeff Mueller and Jeremy Christians. "We went from eighth to first in winning our second heat on Wednesday and thought the track would be similar on Thursday. We made a few changes for the feature and they worked."
Mullen got to third on the opening lap and quickly found the high side to his liking.
His first bid for the front spot was erased by a caution; Mullen passed Mueller for second, caught Lemmens for the lead and stayed there to the checkers.
"We've got a lot of laps in here (at 141) and I've run 10-12 races this long in a Modified, but this was the longest Stock Car race I've been in. I had just gotten into lapped traffic at the end," he said. "We got this car for specials and it's something we've had a lot of fun with. This is definitely a fun class to race in."
Christians was the hard charger after starting 14th.
Feature results – 1. Mike Mullen; 2. Eric Arneson; 3. Luke Lemmens; 4. Jeff Mueller; 5. Jeremy Christians; 6. Abe Huls; 7. Paul Diefenthaler; 8. Derek Moede; 9. Aaron Stolp; 10. Troy Jerovetz; 11. Trent Nolan; 12. Rod Snellenberger; 13. Nick Strobbe; 14. Shawn Havel; 15. Dan Michonski; 16. Jay Schmidt; 17. Brandon Ross; 18. Shawn Wagner; 19. Josh Mroczkowski; 20. Bret Koehler; 21. Buck Schafroth; 22. Dean Cornelius; 23. Brian Cesar; 24. Benji LaCrosse.