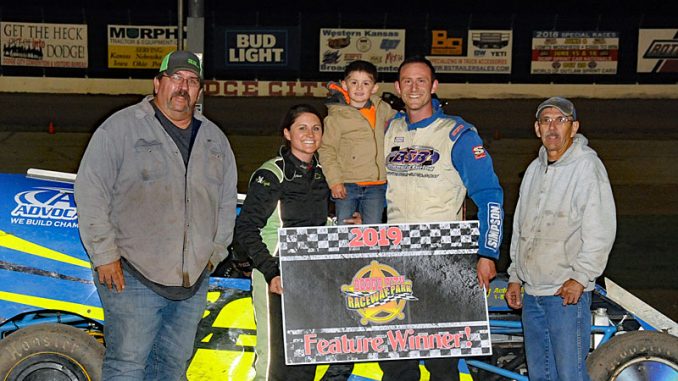 By Lonnie Wheatley
DODGE CITY, Kan. (April 27) – Brendon Gemmill pocketed $1,000 by racing to victory lane in Saturday night's seventh annual IMCA Modified Stampede atop the 3/8-mile Dodge City Raceway Park.
Gemmill fought off a late bid from Tanner Black to win the 25-lapper and earn a spot on the Fast Shafts All-Star Invitational ballot. Gemmill had briefly surrendered the point to Black on the 17th round before slipping away in the final circuits for his career third Modified Stampede triumph.
Starting from the front row outside, Gemmill outgunned pole starter Nick Link with Black making his way from fourth into second after a lap three caution.
Following the race's second and final caution with eight laps in the books, Black tried to keep pace with Gemmill in the ensuing rounds.
With Gemmill railing the topside, Black worked the low side and closed in to challenge as traffic came into play. Black slid into the lead on the 17th round, only to have Gemmill surge back to the front and open up an eight-car length car advantage by the time the checkered flag flew.
"When he got by there, I wasn't sure if I would get him back," said Gemmill, also the Stampede winner in 2014 and last year. "I wanted to try the bottom but nobody ever showed me anything down there, so I just stayed up top and it worked out."
Behind the lead duo, Clay Sellard outdueled Troy Gemmill for the show position with Nick Link rounding out the top five.
Feature results – 1. Brendon Gemmill; 2. Tanner Black; 3. Clay Sellard; 4. Troy Gemmill; 5. Nick Link; 6. Cody Gearhart; 7. Milton David; 8. Ryan Heger; 9. Joel Lane; 10. Jesse Smith; 11. David Solberg; 12. William Nusser; 13. Kale Beavers; 14. Kevin Gray; 15. Travis Simmons; 16. Jake Schroeder; 17. Rick Taylor; 18. Ryan Keller; 19. Casey Jo Gemmill; 20. Trent Gray.