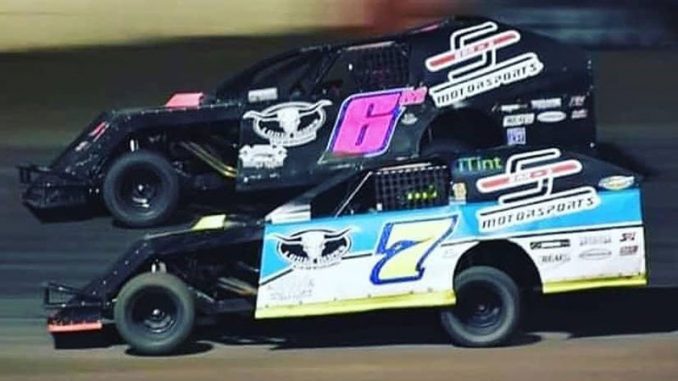 By Ben Deatherage
ALBANY, Ore. – With the 2019 race season fast upon the state of Oregon, Bar S Motorsports is set for the new campaign.
Once again twin brothers Dustin and Justin Cady will drive the house cars for the Albany-based IMCA Modified team. The drivers will venture all around the Pacific Northwest in hopes of building from a strong showing last year.
"I'm really excited that we have a pretty good notebook going into this year," commented Dustin. "I have high expectations for myself and I think we are going to do really well. Hopefully our success will come right off the bat and not late, like last year."
Dustin Cady managed to accrue seven wins and 16 top five's as well as the runner-up finish in final IMCA Modified points at Willamette Speedway. In addition to those feats, he also passed the most cars during the Wild West Modified Shootout to earn the FinishLine Graphics Passmaster Award.
Justin Cady did have some success in 2018 but only had a handful of starts due to suffering an injury. In seven starts he was among the top five in the finishing order three times. Now fully healed, he plans to tackle the competition.
"I'm just so happy to be all healed up and healthy," said Justin, "I'm excited to get back inside the race car and repeat some of the success I was able to accomplish last season."
The plan for Bar S Motorsports is to race primarily at Cottage Grove and Willamette Speedways as well as follow the entire Wild West Modified Shootout. Depending on how the season goes they may travel to some big shows outside of the Willamette Valley.
Their first race is tentatively scheduled for Friday, April 26 at Cottage Grove Speedway before heading up to Willamette Speedway on Saturday, April 27.