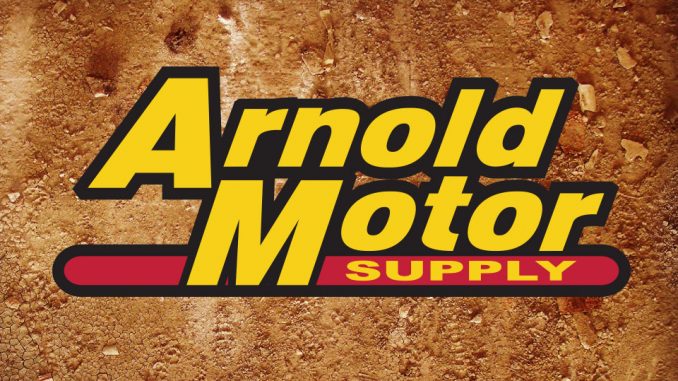 SPENCER, Iowa – One of IMCA's most popular partnerships continues in 2019 as Arnold Motor Supply returns as title sponsor of the Dirt Knights Modified Tour.
The Spencer, Iowa-based auto parts supplier provides a portion of the $10,000 point fund to be paid to drivers in final top 10 point standings and awards a Traeger Lil' Tex Elite Pellet Grill to the series champion.
Arnold Motor Supply became title sponsor for the tour in 2017.
"We are thrilled to be partnering with IMCA for another year," said Brad Edwardson, vice president of business development for Arnold Motor Supply. "It's another way we can give back to our loyal customers, team members and race fans in the communities we serve."
The 10th annual tour opens on May 21 at Sports Park Raceway in Fort Dodge.
In addition to two shows at Benton County Speedway, Arnold Motor Supply Dirt Knights Tour dates also include events at Marshalltown Speedway, Park Jefferson Speedway, Hancock County Speedway, Buena Vista Raceway, Kossuth County Speedway, Clay County Fair Speedway, Fairmont Raceway and 34 Raceway.
In its 92nd year of business, Arnold Motor Supply has 57 auto parts stores and 21 machine shops located in communities represented on the upcoming tour schedule and across the Mid­west.
Information about auto parts store and machine shop locations is available by calling 712 262-1141, on Facebook and at the www.arnoldmotorsupply.com website.
Drivers are invited to join Team High Gear, the Arnold Motor Supply loyalty program that 'rewards race teams for buying the parts you need anyway.' See how Team High Gear can equip your race team with the right parts and out-of-sight perks like discounted auto parts, paint discounts, and other pit crew specials. Sign up today at racethg.com http://racethg.com.
"We are very excited to continue our partnership with Arnold Motor Supply and provide this tour for our IMCA Modified division again this season," commented IMCA Marketing Director Kevin Yoder. "The 2019 schedule is one that aligns with the foundation of the tour and visits tracks throughout the region located near Arnold Motor Supply store locations. We are anxious to get the season underway."