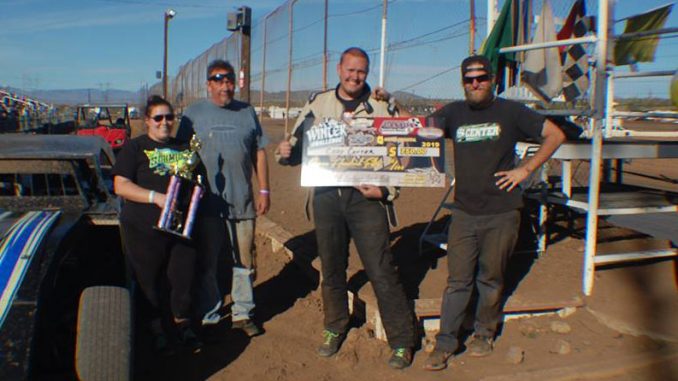 PEORIA, Ariz. (Jan. 26-27) – After a forgettable opening night, Cody Center had a Sunday to remem­ber Sunday at Canyon Speedway Park's Winter Challenge Series. 
A DNS in Saturday's main event following two early tangles with another car in his heat race, Cen­ter started last but still earned his career-first Karl Chevrolet Northern SportMod feature win in the second day show at Peoria.
He followed with the IMCA Sunoco Stock Car checkers, winning two main events on the same program for the first time.
"There were so many emotions after the SportMod win. That was a team effort if I ever had one," said Center, crediting his father Darin and crewman Garrett Hommel for getting the car race-ready again after nasty heat race dustups both days. "They got my car rebuilt twice so I could win on Sunday."
That victory came ahead of Speedy Madrid and Bo Partain. He took the lead early in the Stock Car feature and won ahead of John Parmeley and George Fronsman.
"I absolutely love the Stock Cars. They're by far my favorite class," said Center, a seven-time win­ner in the division last season. "The car was set up so well Saturday (when he finished fourth) that we didn't have to make any setup changes."
Ricky Thornton Jr., already on the Fast Shafts All-Star Invitational ballot, topped both $1,000 to win features for the IMCA Modifieds. Clint Reichenbach was runner-up both nights, with third go­ing to Jason Noll on Saturday and to Tyler Mecl on Sunday. 
Rex Higgins was Saturday's Northern SportMod winner, with Mark Harrison and Jack Aguilar close behind. Fronsman took the Stock Car checkers in front of Gene Henrie and Andy Altenburg. 
Opening night IMCA Sunoco Hobby Stock honors went to Adam Goff, chased across the stripe by Nathan DeRagon and Joe Peterson. 
Joe Vlasity, Goff and Bradley Stafford ran 1-2-3 on Sunday. 
All four IMCA divisions are in Winter Challenge Series action again Saturday and Sunday, Feb. 2 and 3. Those Modified main events are also Fast Shafts All-Star Invitational ballot qualifiers. North­ern SportMods race for $750 to win, Stock Cars for $500 and Hobby Stocks for $250. 
Jan. 26 Feature Results
Modifieds – 1. Ricky Thornton Jr.; 2. Clint Reichenbach; 3. Jason Noll; 4. Zach Madrid; 5. Bill Miller; 6. Guy Norton; 7. Justin Miller; 8. Don Gumke; 9. Bubba Stafford; 10. Nate Warren; 11. Brent Schlafmann; 12. Mike Wells; 13. Marvin Mueller; 14. Mike Lineberry; 15. Garth Dushanek; 16. Ryan Roath; 17. Leland Hibdon; 18. Ross Statham; 19. Eric Center; 20. Bryson Curry; 21. Steve Carter; 22. Delos Haugen; 23. Kollin Hibdon; 24. Kelsie Foley. 
Stock Cars – 1. George Fronsman; 2. Gene Henrie; 3. Andy Altenburg; 4. Cody Center; 5. John Parmeley; 6. J.C. Parmeley; 7. Joey McCullough; 8. Lonnie Foss; 9. Brody Center; 10. Chris Odom; 11. Jason Josselyn; 12. Chris Boulware; 13. David Gill. 
Hobby Stocks – 1. Adam Goff; 2. Nathan DeRagon; 3. Joe Peterson; 4. Max Zachrison; 5. Kyle Cardinal; 6. Paul O'Connor; 7. Joe Vlasity; 8. Kurt Kesselring; 9. Bradley Stafford; 10. Allen Hakes. 
Northern SportMods – 1. Rex Higgins; 2. Mark Harrison; 3. Jack Aguilar; 4. Robert Holmes; 5. Ron Poe; 6. Bo Partain; 7. Ty Weidner; 8. Lyle Askren; 9. Bryan Miller; 10. Darren Riley; 11. Speedy Madrid; 12. T.J. Wyman; 13. Bill Lundock; 14. Michael Egurola Jr.; 15. Roy Nation; 16. Justin Thornton; 17. Cody Center.
Jan. 27 Feature Results
Modifieds – 1. Thornton; 2. Reichenbach; 3. Tyler Mecl; 4. Madrid; 5. Gumke; 6. Noll; 7. Du­shanek; 8. Leland Hibdon; 9. Stafford; 10. Kollin Hibdon; 11. Roath; 12. Curry; 13. Foley; 14. Wells; 15. Mueller; 16. Carter; 17. Bill Miller; 18. Warren; 19. Lineberry; 20. Justin Miller; 21. Haugen; 22. Center; 23. Norton. 
Stock Cars – 1. Center; 2. John Parmeley; 3. Fronsman; 4. Altenburg; 5. J.C. Parmeley; 6. Hen­rie; 7. McCullough; 8. Josselyn; 9. Brody Center; 10. Foss; 11. Gill.
Hobby Stocks – 1. Vlasity; 2. Goff; 3. Stafford; 4. DeRagon; 5. Peterson; 6. O'Connor; 7. Kessel­ring; 8. Zachrison. 
Northern SportMods –  1. Cody Center; 2. Madrid; 3. Partain; 4. Cole Carver; 5. Aguiar; 6. Harri­son; 7. Lyle Askren; 8. Higgins; 9. Egurola; 10. Miller; 11. Lundock; 12. Wyman; 13. Dominique Askren; 14. Michael Phay; 15. Nation; 16. Thornton.