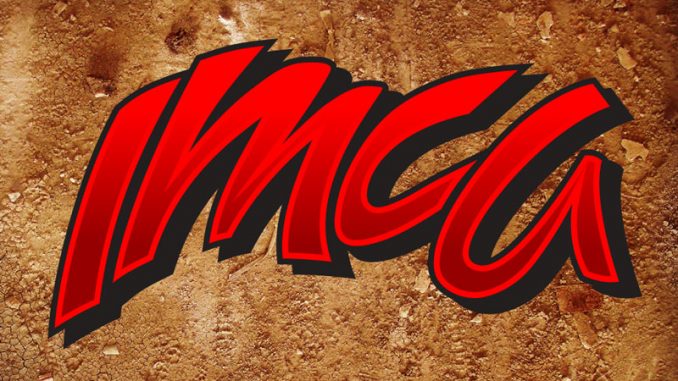 LINCOLN, Neb. – Forty-three tracks, representing 22 states and Canada, will be honored with sanction awards during the Nov. 24 IMCA national banquet.
In all, 55 track awards will be given in recognition of a cumulative 790 years of sanctioning one or more divisions with IMCA.
A 35-year Stock Car award goes to Marshalltown Speedway while Arlington Raceway is recog­nized for 30 years of sanctioning its Modified, Sprint Car and Stock Car divisions.
Thirty-year plaques also go to Shawano Speedway for Modifieds and Luxemburg Speedway for Stock Cars.
Receiving 25-year awards are Abilene Motor Speedway, Dawson County Raceway, Montezuma County Fairgrounds Speedway and U.S. 30 Speedway for Modifieds and Independence Motor Speedway for Stock Cars.
Twenty-year plaques will be presented to Hancock County Speedway for Modifieds and Stock Cars; Lee County Speedway, Merced Speedway and Rattlesnake Raceway for Modifieds; Quad City Speedway for Late Models; 281 Speedway, Boyd Raceway and Kossuth County Speedway for Stock Cars; and Beatrice Speedway for Hobby Stocks.
Tracks to be honored with 15-year awards include Atomic Motor Raceway and Dodge City Race­way Park for Modifieds; Estevan Motor Speedway for Stock Cars; Cardinal Speedway and Daw­son County Raceway for Hobby Stocks; and 281 Speedway for SportMods.
Awards for a decade of sanctioning go to Davenport Speedway for Modifieds; Raceway Park for Stock Cars, Hobby Stocks and Northern SportMods; Estevan Motor Speedway and McLean County Speedway for Hobby Stocks; Lee County Speedway and Montezuma County Fairgrounds Speedway for SportMods; and RPM Speedway and Stuart Speedway for Sport Compacts.
And five-year plaques go to Cotton Bowl Speedway for Modifieds, Stock Cars and SportMods; Big Sky Speedway, Buffalo River Race Park, Electric City Speedway, Gallatin Speedway, and Thunder Mountain Speedway for Modifieds; Bakersfield Speedway, Diamond Mountain Speed­way and Salina Speedway for Stock Cars; Casper Speedway, Cocopah Speedway and Desert Thunder Raceway for Hobby Stocks; Norman County Raceway, Southern Oregon Speedway and Sweetwater Speedway for SportMods; and Southwest Speedway for Sport Compacts.
Drivers winning champion­ships and rookie of the year awards will be honored and sponsor awards presented during the banquet, at the Marriott Cornhusker Hotel in down­town Lincoln.
Cocktails are at 5 p.m. with dinner at 6 p.m. and the awards ceremony to follow.  Tickets are $35 each and available by calling the IMCA home office at 319 472-2201.
An order form was published in the October Inside IMCA newsletter and a list of names of those attending should accom­pany each ticket order. Order forms are also included in congratulatory letters to drivers mailed after point standings became official on Monday.
Banquet goers can go to the www.IMCA.com/banquet site or call 866-706-7706 to make room reservations or for more information.
RSVPs are also requested from those planning to attend the Friday, Nov. 23 open house at the Smith Collection of American Speed, on the Speedway Motors campus in Lincoln.