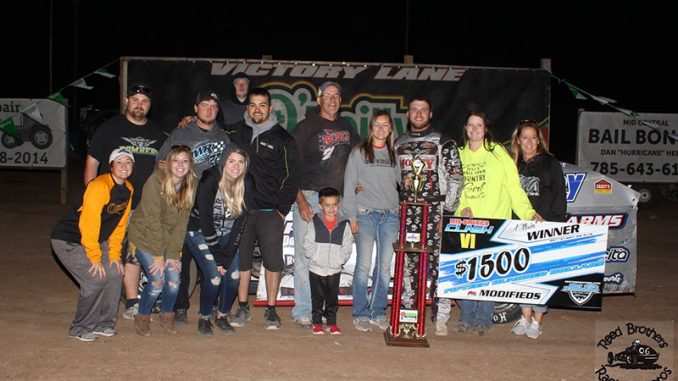 SALINA, Kan. (Sept. 29) – It took a day or two later than he'd wanted, but Clay Money got one of those IMCA Modified wins he'd been wanting for a while Sunday at Salina Speedway.
Money was the $1,500 feature winner at Salina's Mid-America Clash, postponed from Friday and Saturday to a one-day show on Sunday because of inclement weather.
He led all 25 laps from the pole in topping the Fast Shafts All-Star Invitational ballot qualifier. The victory was his fourth of 2018 and came on the final day of the IMCA Speedway Motors Weekly point season.
"This is one we've wanted to get for a while," said Money, runner-up in the second of two Clash features last year. "Kurtis (Pihl) chased me into lapped traffic but I got clean air after the restart."
The first 17 circuits ran green before back-to-back cautions waved. Money edged away the last eight times around the oval, winning ahead of Pihl, Tim Watts and Justin Jurgens.
Bryan Rigsby saw his luck at the draw do a 180 from the heat to the IMCA Sunoco Stock Car main event. He led all 20 laps of the caution-slowed feature from the outside pole and earned $1,000.
Rigsby drew 96 – out of 100 – for his heat but raced his way up to second. He topped the feature in front of Kyle Pfeifer and Tanner Portenier. Kyle Dumpert was fourth.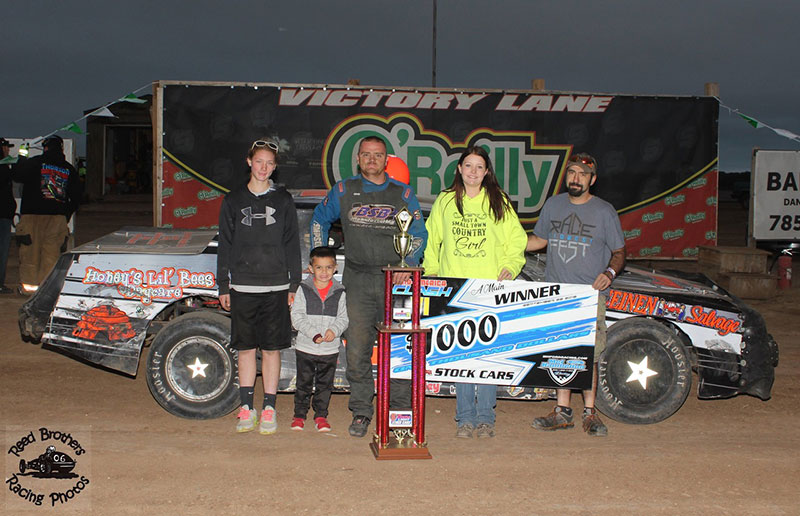 Seven hundred and fifty dollar feature winners were Garrett Hager in the IMCA Sunoco Hobby Stocks and Dakota Sproul in the Karl Chevrolet Northern SportMods.
Shay Simoneau was second and Taylor Huss third in the Hobby Stock feature. Josh Everhart and Ty­ler Watts rounded out the SportMod top three.
Drake Bohlmeyer's Mach-1 Sport Compact win was good for $325. Terry Tritt and Shawn Hein were next across the stripe.
Feature Results
Modifieds – 1. Clay Money; 2. Kurtis Pihl; 3. Tim Watts; 4. Justin Jurgens; 5. Brian Knoell; 6. Co­rey Lagroon; 7. John Allen; 8. Tyler Frye; 9. Daniel Gottschalk; 10. Kaid Calhoon; 11. Lyle Shep­ard; 12. Andy Eickhoff; 13. Larry Sutton; 14. Danny Morrison Jr.; 15. Scott Smith; 16. Kale Smith; 17. Anthony Tanner; 18. Jordy Nelson; 19. Brandon Conkwright; 20. Josh Vogt; 21. Cliff Shepard.
Stock Cars – 1. Bryan Rigsby; 2. Kyle Pfeifer; 2. Tanner Portenier; 4. Kyle Dumpert; 5. Aaron Corley; 6. Arnold Williams; 7. Scott Miller; 8. Tanner Thiel; 9. Mike Burian; 10. Troy Burkhart; 11. Jason Rogers; 12. Greg Schell; 13. Jaylen Wettengel; 14. Tracy Schaefer; 15. Matt Scheuer­mann; 16. Fred Traskowsky; 17. Cody Hoss; 18. Craig Miller; 19. Brandon Conkwright; 20. Tracy Ayers.
Hobby Stocks – 1. Garrett Hager; 2. Shay Simoneau; 3. Taylor Huss; 4. Tyler Hinrichs; 5. Tony Slothower; 6. Pete Beaumont; 7. Tathan Burkhart; 8. Elliott May; 9. Dion Priddy; 10. Dennis Berry; 11. Caleb Davis; 12. Brooke Russell; 13. Kyle Thompson; 14. Taron Burkhart; 15. Wyatt Forshee; 16. Jordan Lindquist; 17. Rick Tanner; 18. Brian Stitch.
Northern SportMods – 1. Dakota Sproul; 2. Josh Everhart; 3. Tyler Watts; 4. Jaylen Wettengel; 5. Rodger Peck; 6. Ron Tex; 7. Zach Nitsch; 8. Kamren Gruber; 9. Shawn Harker; 10. Jason Cald­well; 11. Brian May; 12. Ernie Drown; 13. Mat Stallbaumer; 14. Joe Feyen; 15. Bryan Bow­ers; 16. Fred Traskowsky; 17. Tim Stallbaumer; 18. Dustin Thulin; 19. Matthew Crowell; 20. Stur­gis Streeter; 21. Tyler Wolf; 22. Luke Stallbaumer.
Sport Compacts – 1.  Drake Bohlmeyer; 2. Terry Tritt; 3. Shawn Hein; 4. Jakob Schwein; 5. Na­than Wahlstrom; 6. Josh Black; 7. Brad Gallagher; 8. Joe Baker; 9. Ashlyn Bird; 10. Austin Bird; 11. Amber Bird; 12. Andy Schneider; 13. Alison Bird; 14. Zach Bohlmeyer; 15. Jay Bieker; 16. Bristol McBride.