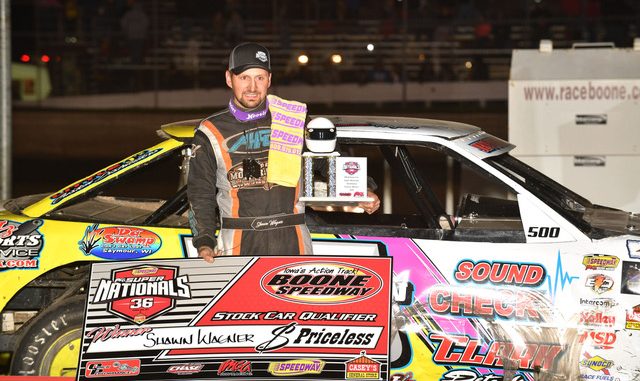 BOONE, Iowa (Sept. 7) – Kyle Strickler and Shawn Wagner were Friday Stock Car qualifying fea­ture winners Friday at the IMCA Speedway Motors Super Nationals fueled by Casey's.
Strickler, twice a Super Nationals Modified champion, made his first start in the division in a loaner from Elijah Zevenbergen. Second across the stripe in the opening qualifier, he was moved up to the top spot when Wayne Gifford was disqualified in post-race tech for an engine compo­nent infraction.
The first driver from North Carolina to make the stock car dance, Strickler was scored ahead of Todd Reitzler, 2003 and 2004 champion Randy Brands, and 2007 champion Kevin Opheim.
Wagner led all 25 laps of the second qualifier, outdistancing the 16th starting Huls following a long green flag run. Troy Jerovetz was third and Smith, the 2014 champion and last year's runner-up, was fourth after Mitch Ross was disqualified for a steering component violation.
The top four from each race advance to the outside row of Saturday's main event grid.
Brands will make his career eighth start, Huls and Opheim both their sixth, Reitzler his fourth, Smith his third, and Jerovetz and Wagner both their second.
1st qualifying feature – 1. Kyle Strickler, Troutman, N.C.; 2. Todd Reitzler, Grinnell; 3. Randy Brands, Boyden; 4. Kevin Opheim, Mason City; 5. Justin Temeyer, Independence; 6. Hunter Mar­riott, Brookfield, Mo.; 7. Caleb Crenshaw, Fort Worth, Texas; 8. David Smith, Lake City; 9. Tejay Mielke, Norfolk, Neb.; 10. David Brandies, Wilton; 11. Mike Albertsen, Audubon; 12. Mike Coel, Pulaski, Wis.; 13. Tyler Pickett, Boxholm; 14. David Wickman, Emmetsburg; 15. Jay Goosmann, Merrill; 16. Mikey Dancer, North Platte, Neb.; 17. Chad Palmer, Renwick; 18. Jason Ward, Sioux City; 19. Mark Schuenemann, Boulder Junction, Wis.; 20. Jerry Leary, Little Suamico, Wis.; 21. Lavern Carey, Ionia; 22. Tony Schlei, Union Grove, Wis.; 23. Rich Pederson, Sioux City; 24. Nick Woodard, Elkhorn, Neb.; 25. Tanner Pettitt, Norfolk, Neb.; 26. Brad Whitney, Trenton, Mo.; 27. Jeffrey Larson, Lakefield, Minn.; 28. Trent Murphy, Jefferson; 29. Cody Gustoff, Scranton.
2nd qualifying feature – 1. Shawn Wagner, Lena, Wis.; 2. Abe Huls, Carthage, Ill.; 3. Troy Jerovetz, Webster City; 4. Devin Smith, Lake City; 5. Aaron Stolp, Suamico, Wis.; 6. Bryan Rigsby, Topeka, Kan.; 7. Mark Zorn, Russell, Kan.; 8. Keith Knop, Shelby; 9. Blake Peeler, Trim­ble, Mo.; 10. Shane Stutzman, Milford, Neb.; 11. Kevin Rose, Waterloo; 12. Joe Brenner, New Berlin, Wis.; 13. Matt Schauer, Arlington, Minn.; 14. Todd Gereau, Sioux City; 15. Justin Addison, Norfolk, Neb.; 16. Tony Ritterbush, Dunlap; 17. Chad Krogmeier, Burlington, Iowa; 18. Derek Moede, New Franken, Wis.; 19. Mike Van Genderen, Newton; 20. Travis Barker, Sioux City; 21. Mark Smith, Hennessey, Okla.; 22. Calvin Lange, Humboldt; 23. Hesston Shaw, Hennessey, Okla.; 24. Brock Badger, Bagley; 25. Brian Cesar, Sheboygan, Wis.; 26. B.J. Wagoner, Colby, Kan.; 27. Robert Stofer, Jefferson; 28. Buck Schafroth, Orient; 29. Anthony Whitham, Lawson, Mo.