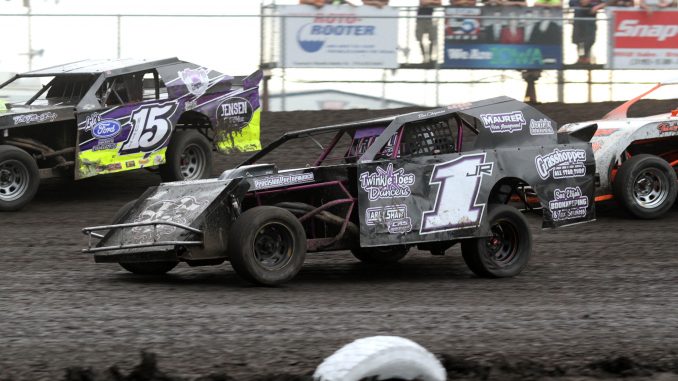 BOONE, Iowa (Sept. 4) – Ben Chapman beat the rain and beat the rest of the Northern SportMod field to win a front row starting spot at the IMCA Speedway Motors Super Nationals fueled by Casey's.
Chapman topped the Tuesday qualifier cut a lap short by rain and will start at the front of the middle row in Saturday's main event at Boone Speedway.
He'd worked his way up from seventh starting and into the lead on the ninth of 25 circuits, then stayed in front of ninth starting Jake McBirnie over the final circuits.
Lining up behind Chapman and McBirnie in the big show will be fellow top eight finishers Austin Luellen, Reese Coffee, Arie Schouten, 2017 runner-up Cory Rose, Doug Cook and Cody Thompson.
Luellen had started 13th, Coffee 21st, Rose 27th and Cook 15th. Mark Rodgers was disqualified from a transfer spot because of an illegal carburetor.
Rose and Cook both make career fourth main event starts. McBirnie is in for the third time, Chapman and Schouten both for the second and Coffee, Luellen and Thompson each for the first.
Qualifying feature results – 1. Ben Chapman, Clarence; 2. Jake McBirnie, Boone; 3. Austin Luellen, Minburn; 4. Reese Coffee, Hinton; 5. Arie Schouten, Blair, Neb.; 6. Cory Rose, Boone; 7. Doug Cook, Algona; 8. Cody Thompson, Sioux City; 9. Jake Sachau, Denison; 10. Jarett Franzen, Maquoketa; 11. Rusty Montagne, North Sioux City, S.D.; 12. Vern Jackson, Waterloo; 13. Eric Bassett, Mankato, Minn.; 14. Brian Konz, LeMars; 15. Travis Burger, Manhattan, Kan.; 16. Jared Waterman, Milan, Ill.; 17. Hunter Longnecker, Woodward; 18. Dallas Nutt, Armstrong; 19. Robby Rosselli, Minot, N.D.; 20. Colby Fett, Algona; 21. Wes Hochstein, Randolph, Neb.; 22. Ryan King, Tama; 23. Dustin Lynch, Boone; 24. Doug McCollough, Webster City; 25. Lucas Lamberies, Clintonville, Wis.; 26. Kole Nordquist, Beresford, S.D.; 27. Keith Brown Jr., Pittsburg, Calif.; 28. Kyle Bentley, Fairbank; 29. Jeff Lloyd, LeCenter, Minn.