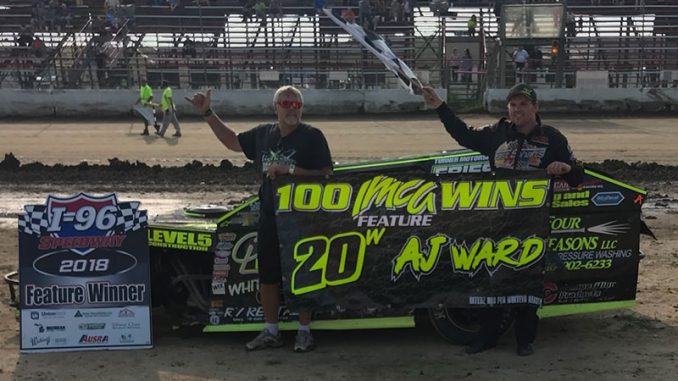 IONIA, Mich. – The track where A.J. Ward started his racing career became the track where he won his career 100th and 101st IMCA Modified features.
Ward, from Ionia, Mich., became the 54th driver in division history, and just the second IMCA Modified driver this season to reach the 100-win mark, topping both scheduled and make-up features on Aug. 26 at I-96 Speedway.
"I started racing here in a street stock. It's good to be able to get my 100th win at my home track," he said. "With the rainouts we've had it looked like I might not have a chance to get it here but everything worked out."
Ward's 19th and 20th wins of the season came in his 36th and 37th starts, after back-to-back runner-up finishes at Tri-City Motor Speedway and Crystal Motor Speedway. It was the third time he'd won two features on the same night.
His checkers in the opener came after a back-and-forth battle with Brenten DeYoung. Myron DeYoung, another Michigan member of the 100-win club, challenged in the nightcap before Ward eased away to complete the Friday night sweep.
"It's a relief now. I didn't think it (trying to get the 100th win) was going to affect us but then we had those second-place finishes," he said. "Then the 100th win finally came and we got busy getting the next 100 by winning the next race, too. That's a good testimony to hard work."
A five-time winner as a rookie in 2010, Ward now owns double figure victories in four straight seasons, with a career best 24 in 2016.
He's a 14-time winner this season at Lake Odessa and in the driver's seat to become the first Michigan hotshoe to capture a third straight Dirt Works Eastern Region championship.
Stanton's Rick Stout, the only other driver from Michigan with a regional title on his resume, ruled the East in 1995 and 1996.