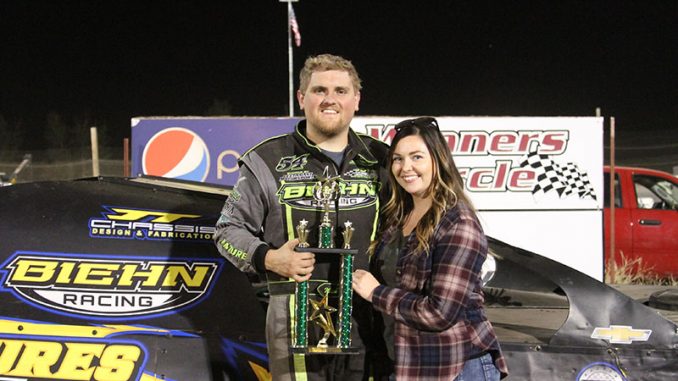 By Don Martin II
WHITE CITY, Ore. (Aug. 18) – Taking the lead from Jantzen Knips on the fourth lap, Nick Trench­ard went on to win his second IMCA Modified main event Saturday night at Southern Oregon Speed­way.
It had been a last-minute decision for Trenchard to go racing. He'd won the $2,000 prize in the Roger Haudenshild Tribute race earlier this year and has positioned himself as one of the favor­ites to win the $5,000 R. Charles Snyder Salute on Labor Day Weekend.
Knips raced into the early lead ahead of Duane Orsburn. Dave Duste Jr. led Trenchard around Orsburn on the second lap and a high pass on the fourth lap gained Trenchard the lead.
Moments later, Knips spun for a caution flag. Trenchard pulled away after a couple later restarts and won ahead of Albert Gill and Zach Fettinger.
Matt Sanders became the seventh different Karl Chevrolet Northern SportMod winner in as many events this season at White City, holding off a late challenge from Rich McCoy.